Featured Review: Hospitality in the Park 2017
Last weekend, Britain's biggest drum & bass festival showed that, with enough care and expertise, small festivals can truly work. Hospitality in the Park topped off the end of the festival season in style and, with a sellout crowd, almost guaranteed its return, in whatever format, next year.
The festival was easy to find; a stream of glitter showered girls and 90s track jacket clad boys formed a procession that covered the short distance from Finsbury Park underground station to the arena. The site itself was very small but masterfully organised. Eight stages were squeezed into a space where three minutes was the longest walk to anything, but without feeling claustrophobic or half-baked. There was still ample room to sit on the grass, eat away from the bass, and cool down after excessive skanking. In terms of innovative staging, the Medschool stage, with its warehouse façade – complete with scaffolding and London road sign, was head and shoulders above the competition and definitely justified the queue to get in. All the others, despite their proximity, had sizeable and very loud sound systems. Frequently the undoing of small festivals, this was miraculous at an event which, judging by its early finishing time, had strict instructions to be friendly to its neighbours.
The novel Cuckoo's Nest was noteworthy. It's undoubtedly an unspoken wish of many festival goers to be able to stand behind the decks and play to a crowd rather than stand in it, regardless of actual talent. Here, people who packed their USBs were granted their wish and although crowd size varied throughout the day, it showcased eclectic taste, surprising talent and is hopefully replicated at other events.
Great food and drink is something that Hospitality takes great pride in and HITP was no different, with a large selection of culinary delights. Tokens, the bane of all festival goer's collective lives were in use here, but queues for tokens were very manageable and cards were accepted (meaning people who hadn't thought ahead could avoid wasting 2.99 taking cash out from the cash points). Similarly, the queue for the main bar, which doubled up as the Invaderz stage, was manageable, and because of the proximity to the music, about as much fun as you can have queuing anywhere. The less said about the price of booze the better, but drinks were fairly competitive for London.
Musically there were, of course, a multitude of highlights. Even before we made it inside, Micky Finn and Aphrodite's 'Bad Ass' came drifting over the perimeter wall, giving us a flavour of what was to come. Drum & bass staples could be heard across almost any of the stages throughout the day: Hazard's 'Mr Happy' and 'Bricks Don't Roll', DJ Zinc's 'Super Sharp Shooter', and dBridge's 'True Romance' the most common. Some welcome respite was provided by the Main Squeeze stage, which revived exhausted ravers with the likes of Bob Marley and The Emotions. There was no relaxation at the only other non-dnb area, the Deep Medi stage, where heart palpitating sub bass blasted almost all day. A b2b from Silkie and a visibly ecstatic Swindle went down particularly well there.
Catching the end of LSB, DRS and Tyler Dailey's set was rewarded by a live rendition of 'The View', the melancholic collaboration that made waves when released on Soul:R in 2015. Alix Perez showed that despite his change in musical direction, this departure hasn't resulted in any back-catalogue amnesia, with 'Forsaken' and 'Losing You' still generating serious traction from crowds. Other highlights from his set included Ivy Labs 'Twenty Questions' and the ever popular 'Mr Majestic'. Calibre deserves an honourable mention for drawing what was surely the largest crowd of the evening to the Fabriclive stage for his epic set.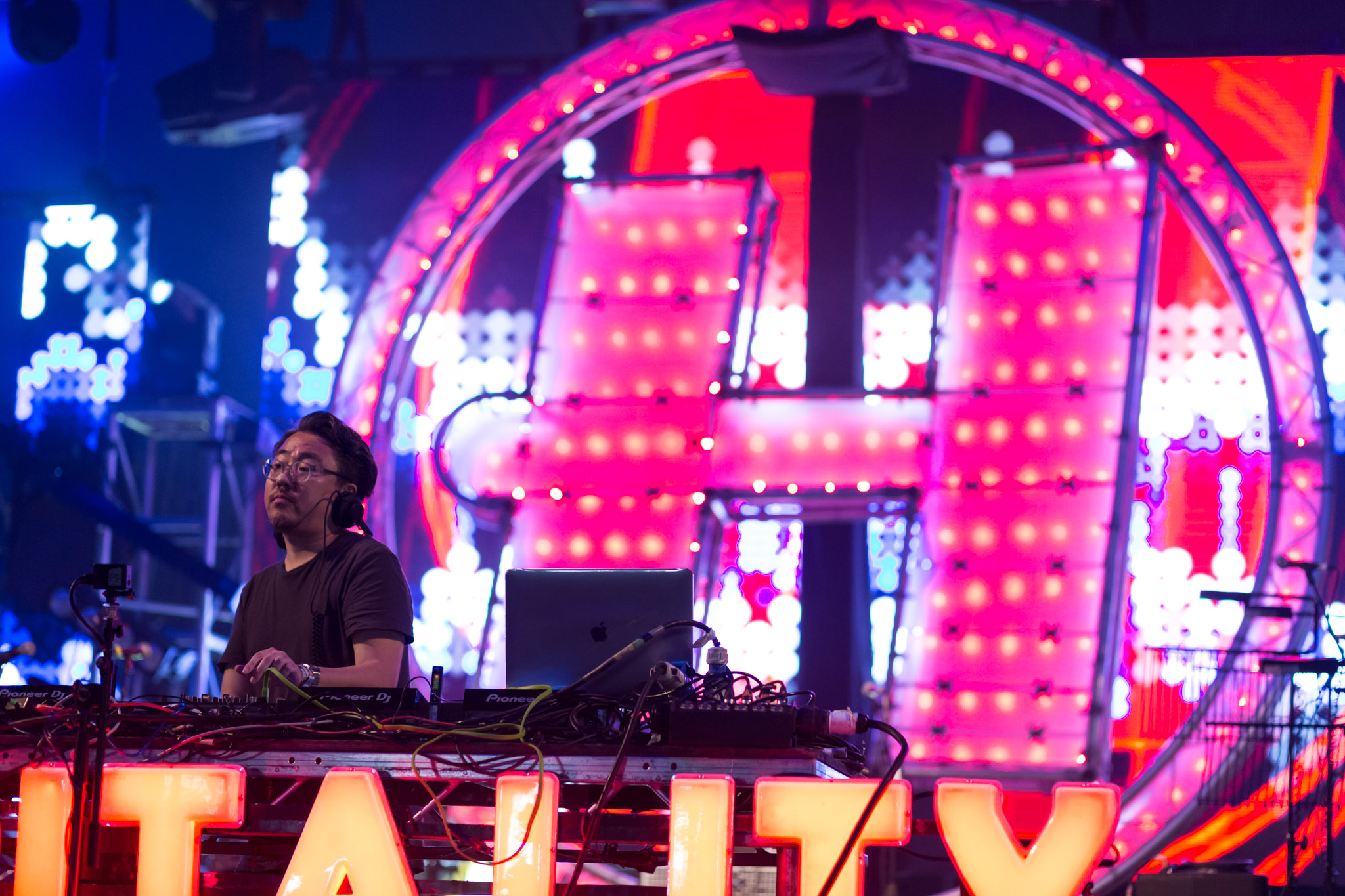 Camped in the Hospitality stage, the final hours brought some fantastic MCing. GQ and Dynamite MC united flow and good humour with takes on J Hus's summer anthem 'Did You See' and Michael Dapaah's 'Mans Not Hot' (better known as 'the ting goes skrrrr…'). The reaction to Sigma's take on Route 94's 'My Love', Netsky's 'Everyday' and Wilkinson's 'Afterglow' suggested the crowd here favoured the commercial side of dnb, but there was still room for Mefjus' incredibly aggressive take on 'Sunday Crunk'. This epitomised the event: there was something for all fans at a festival that ably and faithfully represented the multitude of different branches of the ever-expanding genre. Do we really have to wait a year for the next one?!
THE FESTIVAL IN REVIEW:
PROS:
Really well thought out site, with all stages integrated well within a small space.
Efficient food & drink queues and great choice of food.
Excellent sound systems for a small festival, which helped make each artist's performance even better.
CONS:
Very expensive drinks.
Use of tokens to buy food and drinks.
Organisation – 8.0 | Music – 10.0 | Food & Drink – 7.0 | Site Setup – 8.0 | Attention to Detail – 7.0 | Creative Content – 7.0 | Value for Money – 6.0
Overall Score – 53.0/70.0