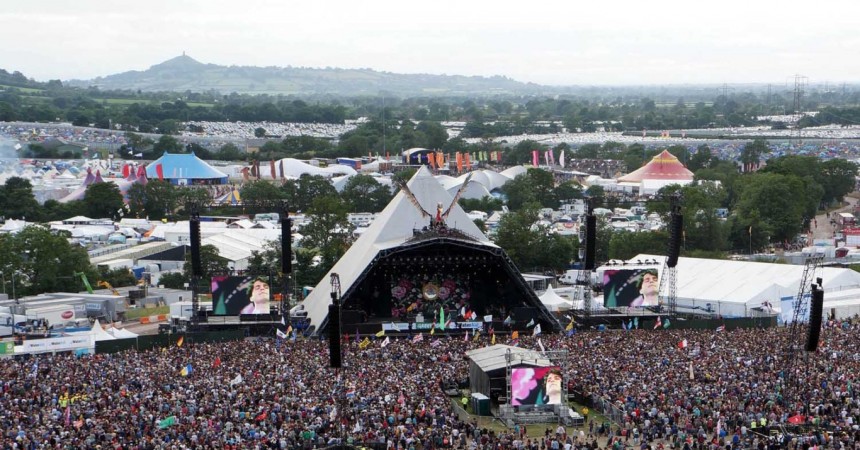 Glastonbury 2015
Glastonbury Festival is possibly the biggest name in the global festival industry. Almost every year nearly 200,000 music and arts fans flood to the South West and create a town the size of Norwich for five days of unrivalled music, comedy, dance, theatre, circus and speech. As you enter the festival gates early on Wednesday the excitement in the air was as palpable as ever. Glastonbury has its own feeling; one you don't get with any other festival.
Before even the first act of the weekend had trodden the Pyramid Stage boards there were already a diverse array of arts and culture talent on show. There's so much to experience; festival-founder Michael Eavis singing karaoke, a panel discussion on the Green Party, and breath-taking gymnasts and circus performers, but ask any other punter and they would tell you a completely story, such is the offer of entertainment even as early as the Wednesday lunchtime. Glastonbury veterans will often tell you the festival is 'so much more than just the music' and you'd have a hard time proving them wrong.
That's not to say that the big names do not deliver. On the Friday night Florence Welch had the whole Pyramid field in the palm of her hand, able to direct 80,000 people to sing and dance as she desired through the electrifying power of her indie-art-rock. The Libertines delighted the same crowd with a surprise performance, filling in for a promoted Florence and the Machine after Foo Fighters were forced to withdraw following Dave Grohl's leg injury. From the performances they gave, however, there was no sign at all that just two weeks ago festival organisers had something altogether different planned.
Saturday night saw the arrival of Glastonbury's most controversial booking ever, rapper Kanye West. Glastonbury can certainly deliver on quality and diversity; showing everything from drum & bass to indie-rock. This demonstrates further why Glastonbury is the mother of all festivals. Kanye West's set was one of simple proportions, performing under a ceiling of white lights with no visual display and no props. There was just one guest which came in the form of Bon Iver's Justin Vernon. West stayed glued to the stage for his set, apart from when he performed hit 'Touch the Sky' from the top of a crane, dangled high above the Glastonbury crowd.
Sunday's hype wasn't aimed at headliners The Who, but instead a smaller daytime set from a living legend. Lionel Richie was 2015's artist filling the festival's infamous 'legends slot', occupied previously by big names including Dolly Parton and Tom Jones. He did not disappoint either! Richie had high energy and engaged with the audience whilst rattling through every single one of his hits. A stellar performance from a man that seems not a day over 30. The Who, though, are not to be forgotten, playing an excellent closing set. Classic songs 'Pinball Wizard' and 'Baba O'Reily' made the band's set evermore exciting.
We have to mention, of course, our constant indulging in Glastonbury's unrivalled nightlife. The South East corner is made up of four unique and themed areas all containing countless venues, bar and clubs. The place is indescribable filled to the brim with dancers, performers, artists, and incredible sets. The attention to detail at Glastonbury is second to none; 'The London Underground' consists of a techno venue set in a tower block with a real life-sized tube train crashed through the front three floors up. It's these experiences that sets Glastonbury apart from every other music event on the planet!
Some of our highlights from this year's festival:
The Chemical Brothers - For a lot of artists at Glastonbury competing with 50 years of rock music can be a tall order. But, not for this pair. This dance act is still at the top of the game, delivering a tenacious performance deserving only a top-billed spot at Worthy Farm. Playing for an hour and forty-five, The Chemical Brothers gave a masterclass in both audio and visual ingenuity. Their light show and stage production can only be admired with a dropped jaw showing their artistic talents not just in music, but by putting on a show! It proved both magical and intense in every way. If ever there was a perfect way to end Glastonbury weekend, this was it. Simply wonderful.
Gengahr – Forget the world famous bands for just one minute. The Glastonbury team knows what they're doing when it comes to uncovering future bands. One of those in contention for the bigger stages are London four-piece Gengahr. The bands vignettes are reminiscent of Wild Beasts and Talking Heads. These are sure to be one to look out for, especially now their debut album has launched.
Jamie XX – Arguably the best DJ set we've ever seen at inSYNC. Jamie XX's debut album 'In Colour' deserves nothing less the a mass televised public celebration, and some may of expected his set to be little more than an album playback. But, the man's talented enough to pace his hour slot incredibly, adding a dance-floor ready track embellishment, whilst mixing together a crowd-pleasing garage tape. With a typical mid-summer sunset in the background, this set could not of been closer to perfection.
Lionel Richie – 2015's 'Legend' slot. Lionel's cartoon character energy and enthusiasm is infectious, and left everyone with a big smile of their face. Just what a warm Sunday afternoon at a festival should be about! Everyone was almost literally dancing on the ceiling.
The Maccabees – Whilst Glastonbury have reached a point where there's a worrying lack of potential headliners amongst the current music contingent, it's The Maccabees that really should be in with a shout. Drawing a huge crowd in the face of fierce competition on other stages, they delivered a flawless set, including a raucous 'Latchmere' and celebratory 'Can You Give It?' while new material aired from forthcoming album 'Marks To Prove It'. Fellow Londoner Jamie T joined them to play guitar on the new record's title track.
Milky Chance – This German duo is nothing short of brilliant. For an acoustic set their set time was odd; 11:30 on Sunday night. But, it worked! The pair reeled off tracks from their excellent debut album 'Sadnecessary', and put on a stellar performance. The crowd responded with and incredible amount of energy that should not of been present right at the end of a five day festival. Definitely look out for Milky Chance. See them if you get a chance!
Wolf Alice – Without doubt, Wolf Alice are one of the UK's bands of 2015. The band's popularity is confirmed by the droves of people cramming themselves in to the tiny Williams Green tent. Already on a high from the midweek album chart placing the band's debut 'My Love Is Cool' at Number One, the set is a revelation and one that builds anticipation for the future of the band.
Shangri-La – Year-on-year Glastonbury's Shangri-La, the festival within a festival, hoovers up the late night action. Every year the area comes with a theme – this years? Revolution. This comes in the form of acts as well as the design of Shangri-La. Slaves and Fat White Family are to name just two of the bookings that performed on the Hell Stage, with the centrepiece of the 'Occupied Corporate HQ', a rabbit-warren of subversive art and popup bars and stages. This specialist area of dramatic sets, music, stages and art is also a big middle finger to the UK's current political state. This is the only major UK festival to wear its values proudly, dedicating a whole stage to leftist, anti-establishment boat rocking. Glastonbury's 'Leftfield' is a haven for discussion, for argument and for music that has something to say.
Glastonbury is a place of high quality; an event not just focused on music, but arts, politics and culture. There's a reason Glastonbury is the best festival on the planet. Go see for yourself!
Organisation – 10/10
Music – 9/10
Site Setup – 8/10
Festival Communication – 9/10
Attention to Detail – 10/10
Creative Content – 10/10
Value for Money – 9/10
Overall – 10/10