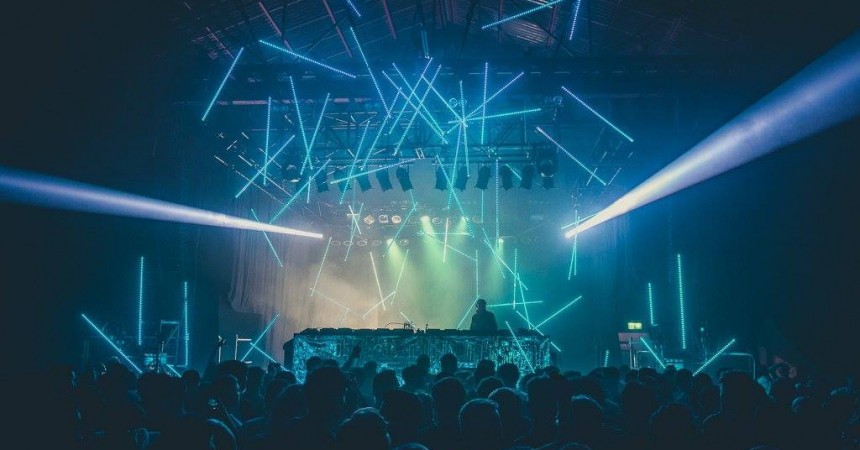 Motion's In:Motion Series Goes Off With A Bang
At the end of last month, Bristol saw the return of the annual In:Motion Series at super-club Motion. The 2016 rendition of the series kicked off a heavy techno night bringing in heavy weights Eats Everything and Joseph Capriati as headliners. Having been a massive success for the last couple of years, we were thoroughly looking forward to what this year's series had to offer. The opening party consisted of an all-star lineup with the likes of Italian techno legend Joseph Capriati, local lad Eats Everything, Canadian DJ B.Traits and Scottish producer Jasper James all taking to the decks. All four of Motion's rooms were open each having its own unique array of top DJs. One of the many positives of the night was the fact that the so-called 'Marble Factory' room was used as a purely as a bar with no actual DJ's performing. This helped massively with the sound and it dealt well will the volume of people moving from room to room giving more space to the sell-out crowd.
Upon entry saw Motion had undergone some improvement work this summer with a new outside area that has been built. This has been done by the opening of a warehouse situated at the front of Motion. It contains a food outlet and seats for the crowd. We really think this adds something special to an already special venue. Extra space for smokers that isn't just hanging around outside the toilets and doorways improves the traffic flow at the club.
We stumbled first across Horse Meat Disco in The Tunnel. With their disco approach containing influences from the 1980s and 1990s, they provided a seamless set and galvanised the crowd. Putting the DJ quartet in The Tunnel made sure for good vibes throughout and really added to the atmosphere of the small space.
The rest of our night was spent in Motion's main room. Although this was a crowded affair, it did not stop Motion's incredible atmosphere from shining through. The very setup of the club makes it one of the best in the UK to listen to underground music, especially techno with its dark melodies and heavy beats. Joseph Capriati is one of Italy's best DJs, and began his career as a producer about ten years ago. A resident at Marco Carola's Music On at Amnesia in Ibiza since 2012, Capriati has been widely credited as being the driving force behind Music On's Main Room. This platform has acted as a springboard to wider global recognition as the Italian techno luminary has affirmed his status as a formidable contender in the expansive global underground music scene, marking him out as a leading light amongst the next generation of international techno headliners whose musical magnetism makes him a firm favourite with club crowds around the world. Now he's coming to Bristol to show us how its done. His set was one of epic promotions, with a light show accompaniment that cannot be forgotten. It was a pleasure to watch Capriati for the first time, and we hope it's not the last.
Finishing the In:Motion opening night is Bristol's very own Eats Everything. Eats has collaborated with a number of big name artists including Justin Martin, Catz & Dogz and Totally Enormous Extinct Dinosaurs. Eats Everything started playing clubs in Bristol, and was soon given a permanent residency at the Bristol night Ripsnorter in the early 2000s, as well as playing a few gigs in Europe. However, it wasn't until 2011 that the 35 year old's career really started to gather momentum. When Everything's 'Entrance Song' was signed to Pets Records, followed soon after by a release on Claude Von Stroke's Dirtybird label then their was no stopping a hugely successful future. Performances at some of the world's biggest and best clubs including Fabric, DC10, Amnesia, The Warehouse Project, and Space Ibiza put the Bristol DJ's name out there. Not to mention top sets at some of the country's best festivals like Glastonbury, Bestival, Creamfields and Secret Garden Party. As always, the DJ came through with a top performance and made sure it was a perfect ending to the beginning of 2016 In:Motion series.
If Motion get up with nights like this one then they are sure to be crowned the best club in the UK. Haven't experienced Motion yet? Then what are you waiting for! More event, information and tickets available at http://www.motionbristol.com.
Venue – 9.5
DJ/Band – 9.0
Music – 9.5
Overall – 28.0