Review: Bournemouth 7s Festival 2017
Bournemouth 7s 10th Edition
The late-May bank holiday is a crowded market for event planners. As the cold dark nights subside, festivals, markets and holiday-makers alike start to take hold. It's therefore increasingly difficult for organisers to make their juncture stand out. The public's choice of events is beyond a vast variety.
However, returning for their tenth year, Bournemouth 7's emerged as one of the highlights of the early festival scene. A hybrid of music and sports allows the event to attract a mixed crowd – making it a refreshing scene of old and young. The weekend 7's chooses seems to be almost always glorious sunshine – this year nearly matched that. A little rain to clear the air on Sunday night was actually surprisingly pleasant.
As you wander around the vast site, there is activity everywhere. Hockey, rugby, dodgeball, drinking, chatting, dancing. Grabbing a drink at one of the fast serve bars is surprisingly quick. It's always a buzzkill if you have to wait an hour before you can get served as per a lot of festivals these days.
Walking around with a pint watching sports in the mid-afternoon sun has to be one of the nicest feelings in the world. Although we didn't know people playing, the atmosphere around both the big games and the smaller ones is amazing. Friends, foes, the non-believers are all cheering or chanting something with smiles draped across their face. The final on Sunday afternoon was great to watch and despite their team having two red cards before the match began – it was fun to see French team Seventise win the tournament.
As night falls on both Saturday and Sunday music starts to come out of a number of different tents. Our favourite is the Cocoloco tent – although you won't be hearing any ground-breaking underground tracks, it's a fun atmosphere in a half covered tent. (A great place to hide from any rain).
BBC Radio 1's Mistajam and legendary garage duo Artful Dodger were the headliners and proved to be extremely popular with the crowd. A mixture of drunkenness and exhaustion didn't stop the crowd from jumping until close and both proved to be a better choice of headliners than last year.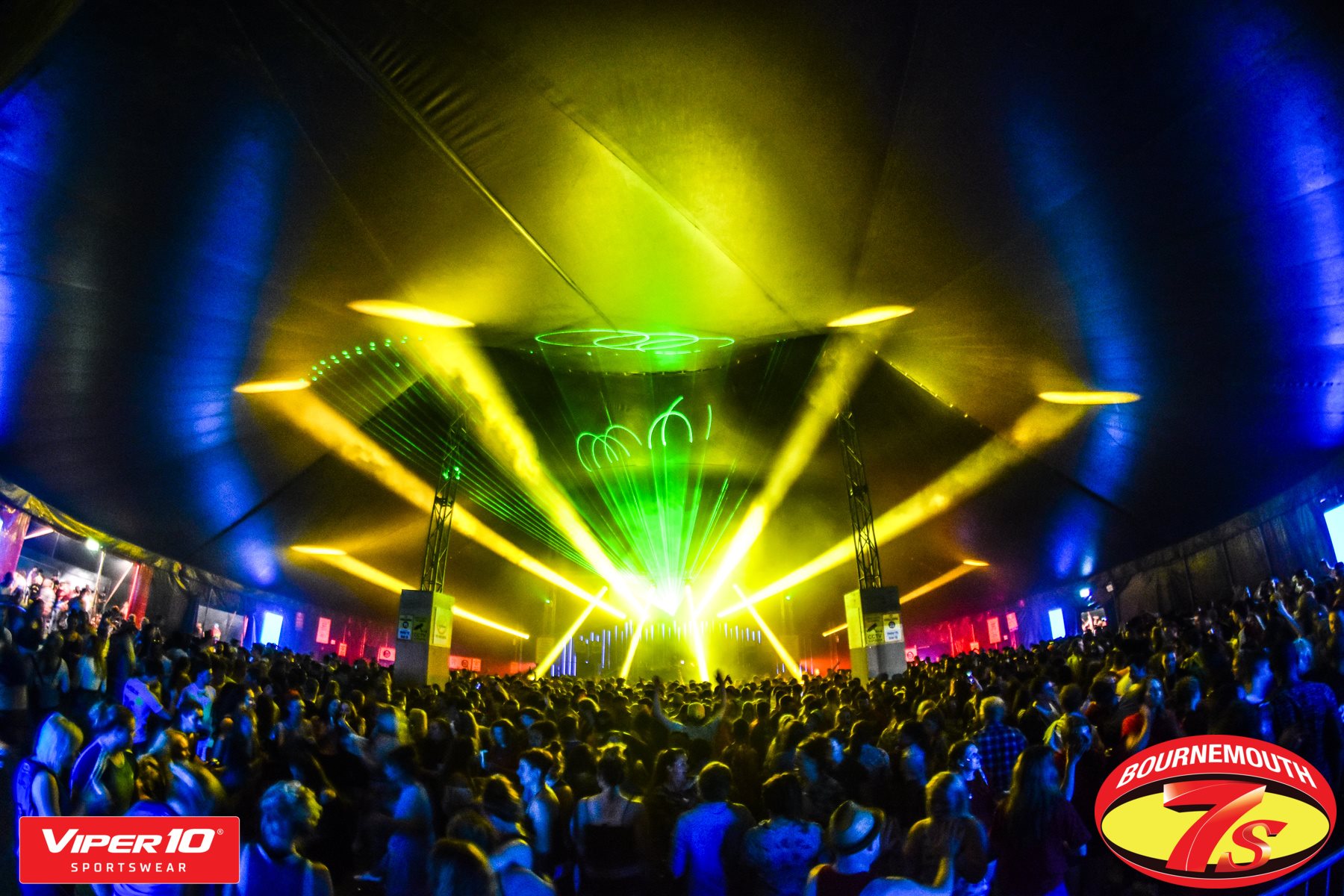 Bournemouth 7s has come a long way in the last ten years establishing itself as Europe's biggest sports and music festival. It's transformed Bournemouth's reputation across the country with hundreds of sports teams making it their annual pilgrimage and many more returning after graduation. It's a guaranteed laugh for both players and punters.
The festival will return on the bank holiday weekend in 2018 and will certainly sell out.
THE FESTIVAL IN REVIEW:
PROS:
Amazing atmosphere.
Large range of activities for all.
Fast serve bars.
Organisation – 6.0 | Music – 6.0 | Food & Drink – 8.0 | Site Setup – 9.0 | Attention to Detail – 7.0 | Creative Content – 7.0 | Value for Money – 9.0
Overall Score – 52.0/70.0