One Week To Go: Boomtown Chapter 8
Boomtown is one of the UK's festival wonders. It's a non-commercial masterpiece of arts, culture and music, and this month will see us turn the pages of 2016's 'Chapter 8'. The festival has ballooned to a staggering 50,000 so-called 'citizens' since Boomtown's streets first opened in 2009. Boomtown Fairs' mind-blowing creative landscape is utterly diverse, eclectic and simply inspiring. If all festivals took on Boomtown's wild, weird and entertaining approach to their creative installations then the world would be a better place. And, if you throw in the festival's fictional yet real-esque backstory, which develops with each passing year, then you're in for one hell of an experience. The past weeks have seen the festival unleash a stream of lineup announcements, one for each of Boomtown's nine themed districts. The festival's vast immersive experience is one like no other, pulling in music from a variety of alternative genres; ska, folk, punk, reggae, electro-swing, drum & bass, hip-hop and bassline to name but a few. 2016's lineup has grown strong with every announcement and will see the likes of reggae legend Damian 'Jr Gong' Marley, Fat Freddy's Drop, electro-swing master Parov Stelar and Fun Lovin' Criminals share stages with UK ska heavyweights Madness, Bad Manners, Leftfield and Levellers among others.
It's now just one week until the festival gets underway. Boomtown's nine districts make up the city; Boomtown will show off this year's lineup across its incredibly themed areas. The dark back streets and shady alleyways of the OldTown lures the unsuspecting traveller beyond the confines of the map and into another world of seductive sirens singing under street lights and pirate parties storming every tavern. The OldTown plays hosts to Boomtown's infamous 90-ft pirate ship dubbed 'The Jolly Rodger', which, this year, will feature an eclectic mix of gypsy, Balkan beats, Klezmer and pirate music. Babylon Circus, Los de Abuja, Bohemian Betyars, N.O.H.A, Les Yeux d'la Tête, and Fat Bastard Gang Bastard Gang Band are just a few of the acts you'll find at the Old Town.
Mayfair Avenue plays host to the festival's electro-swing, swing and vintage remix music. Mayfair Avenue is a playground for Boomtown's higher social classes; bankers, socialites, aristocrats and secret societies all rub shoulders. The infamous Avenue's theatrical high-jinx plays out whilst the stages within provide the world's most insane selection of swing music and vintage remix lineup. See electro-swing giants Parov Stelar, Molotov Jukebox, The Correspondents (LIVE BAND), Dutty Moonshine Big Band, Smokey Joe & The Kid featuring Mystro, Electric Swing Circus, The Sweet Life Society, and The Carny Villains all grace Boomtown's most wealthy district.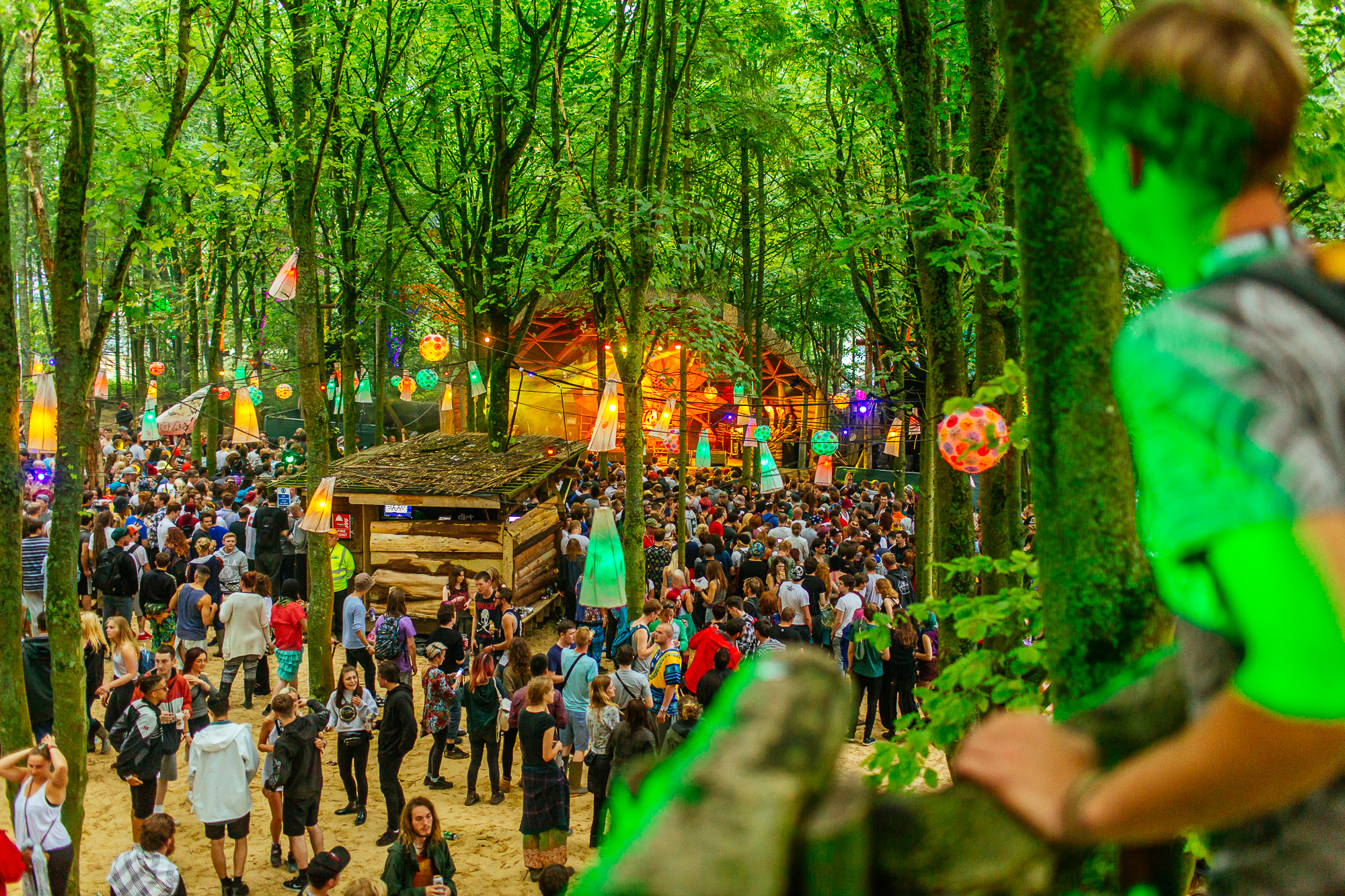 Populated by cowboys, showgirls, bounty hunters and bandits, Boomtown's Wild West is a non-stop raucous settlement ruled by the no-nonsense sheriff. Set away from the district's dusty trails and ramshackle saloons, three large stages show off the best in folk, world, bluegrass and ska music. The Wild West is one of Boomtown's most defining areas, helping to set the festival apart from the norm. Imelda May, Levellers, Afro Celt Sound System, Ojos de Brujo, Nahko & Medicine For The People, Seth Lakeman, Lau, Joe Driscoll & Sekou Kouyate, and Steve N Seagulls will all busk for the Wild West's approval.
Barrio Loco is the city's Latin quarter. This neighbourhood rarely sleeps, with a revolutionary spirit and carnival atmosphere running deep through its streets. Barrio Loco's 'Bassline Circus' tent brings their infamous outdoor show dubbed 'Athletes of the Night' as well as a lineup of hard-hitting bassline artists. The district also plays host to the bass-heavy hub Poco Loco, and for the first time ever at Boomtowna bill of tiptop house and techno artists will take to the newly created 'Vamos' stage. Foreign Beggars, Pharaohe Monch (Live), Nightmares on Wax, DJ Craze, Derrick Carter, Derrick May, Jackmaster, Shadow Child, Skream, Reeps One, Octave One (Live), JFB and DJ Format & Abdominal are just a few of the artists on offer.
Boomtown is known for playing host to some niche genres of music. Psychedelic helps set the Boomtown Fair apart with its collection of Pys-trance, hi-tech and progressive techno. Supported by a collection of the UK's top Psy promoters (IllumiNaughty, Tribe of Frog, Liquid Records and Return to the Source), the three stages of this district are found in two stunning woodland locations and an inner-city venue. The Psychedelic district unites crews, artists and party people from all over the international Psychedelic Trance community showing off Hallucinogen, Hilight Tribe, Neelix, Shpongle (Simon Posford DJ set), GMS, Skazi, 1200 Micrograms, Orb Soundsystem, Ozric Tentacles, JOOF, Alok, and Gaudi over the course of the event.
Boomtown Chapter 8's backstory features the people's revolution. And, every revolution needs a HQ; welcoming in the brand new district 'Sector 6'. Located right in the heart of this district is a power station commandeered by masked revolutionaries, all leading their charge to a bass-heavy soundtrack of garage, grime, bassline and dubstep. The revolution begins with AC Slater, Chris Lorenzo, Deep Medi Takeover, Diemantle, DJ Zinc, MJ Cole, Ms. Dynamite, Newham Generals, Om Unit, So Solid Crew, Special Request, Zed Bias & MC Trigga plus many more!
At the heart of the bustling neighbourhood are the sounds of ska and punk, music that lies at the very core of Boomtown's history and heritage. ChinaTown is the festival's hub of technology and trade; have your senses challenged from all angles, with intense aromas, neon lights and detailed shop facades creating an intoxicating vibe of mystery, mayhem and music. ChinaTown's 2016 lineup is one like no other featuring ska legends Madness, Fun Lovin' Criminals, Mad Caddies, The Selecter, Bad Manners, Neville Staple Band, The Slackers, Melbourne Ska Orchestra, Chainska Brassika, and The King Blues the name but a few.
The epicentre of Boomtown's reggae, jungle and dancehall scene; TrenchTown. And, at its heart, the Lion's Den, and ancient Mayan Temple towering 40ft into the clouds claiming itself as the UK's largest dedicated reggae stage. Elsewhere in TrenchTown is the Hidden Woods giving out beach party vibes. Deeper into the undergrowth is Tangled Roots where celebrating sound system culture is the norm. The one and only Damian 'Jr Gong' Marley, Fat Freddy's Drop, Morgan Heritage, Inner Circle, Tarrus Riley, Junior Kelly, Tanya Stephens, Kabaka Pyramid & The Bebble Rockers, and Channel One Meets Mad Professor can all be found in TrenchTown this year.
Last, but certainly not least is the festival's neon-lit, underground of the city. Where little is off limits and all manner of twisted fantasies play out. DSTRKT 5 will feature three brand new stages (Robotika, Scrapyard, Sewage Works) to go alongside the incredible nine-storey Bang Hai Palace, a flame-throwing bass music mecca and the city's most striking skyline spectacle. Prepare yourself for RAM Records, Roni Size & Krust present Full Cycle, Critical Sound, Dub Phizix, Calibre, My Nu Leng, TQD (Royal-T, DJ Q & Flava D), and DJ Hype & Hazard.
You're just in time in booking your trip into the wonderland that awaits you at Boomtown Fair Chapter 8. You will not experience another event like this one! Last remaining tickets are going fast at: http://www.boomtownfair.co.uk/.