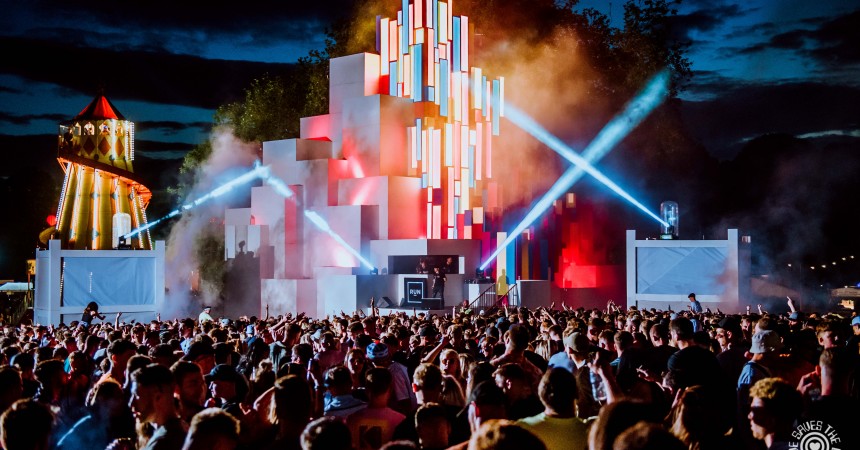 Love Saves The Day 2019
Now in its eighth year, Love Saves the Day is the crown jewel of Bristol's ever-increasing festival scene. Thriving on a high-intensity identity and combining the glitz of chart-topping mainstage headliners with intimate and euphoric house and techno parties. Organisers include a multitude of genres including the energy and excitement that surrounds the rap and hip-hop scenes in the UK right now. Impressive organisation and beyond creative stage design transforms Eastville Park into a ten-stage weekend escape for people of all ages. From start to finish, the crowds are immersed in high-quality music in a time where live music is becoming harder to find. Love Saves the Day provides a platform and spectacle for artists to take back control and showcase their talent within Bristol, a city famed for its heritage in music and the support of underground sound.
Saturday provided an all-conquering mainstage lineup incorporating electronic duo Maribou State, jungle kingpin Shy Fx and pop legend Lilly Allen all playing consecutively. The latter both providing renditions of 'Roll The Dice', which is quickly becoming an anthem. The Centre Stage was held down by the Run collective DJ's throughout the day, meaning Bristol's Drum & Bass roots could always be heard. The Saturday highlights belonged to Ross from Friends and Little Simz' performances on the CRACK-curated Paradiso stage. Not to mention Palm Trax's headline set at the Brouhaha stage.
Ross from Friends truly made the evening set his own, offering out his own unique soft melodic and hazy house music that got a lift from a live saxophonist, while little Simz had the crowd in ore with her rich soulful yet experimental tracks. She has made a name for herself blurring the lines between rap and soul music. This unique sound has seen her rise to the top of UK rap music game. Palm Trax gave a prime rendition of his established electro sound. Italo-infused bassline zapped with an addictive energy throughout the set. The set reached its panicle when Palm Trax dropped his newest release 'To Paradise'.
If Saturday's mainstage belonged to a more mainstream sound then Sunday was for the underground. BBC Sound of 2019 winner Octavian, Brighton rapper Ocean Wisdom and London's Not3s demonstrated the massive strength of the UK rap and grime scene currently. The highlight was Not3s' performance of his breakthrough track 'Addison Lee' that received anthem like treatment from the crowd.
Sunday belonged to the selection of house and techno that was on show at Paradiso and Centre stage. HAAi provided the most lighthearted of sets, with through-back 90s classics and more playful techno. Bonobo's headline slot filled out the Paradiso Stage and provided a fitting end to the festival. However, surely more would have preferred one of his legendary live sets than just a DJ set. The stars of the show had to be DJ Seinfield and Peggy Gou. Who, between them packed out the Paradiso stage all afternoon turning it into a euphoric sweatbox which no one wanted to leave. The Highlight track was Peggy Gou's acidy electronic rendition of Donna Summer's classic 'I Feel Love'.
Love Saves the Day encapsulates what Bristol is all about. It is a celebration of a diverse wealth of musical genres and eclectic people. That makes sure homegrown organisations and artists have a platform to excel on. Savvy and well-organised set lists and stage curation means underground and rapidly ascending artists get spots on the lineup and major platforms. Love Saves the Day should keep doing what it's doing, and grow from strength to strength. We can't wait to return again next year.