Love Saves The Day 2017
Love Saves the Day 2017
Love Saves The Day delivered yet another fantastic festival in Bristol's Eastville Park over the late May Bank Holiday weekend, with a mix of food, fun, and most importantly, music. Love Saves is incredibly well run for a small, albeit Bristol's largest and most loved, festival. All the usual niggles that can easily ruin a day, especially at a festival with no camping option, are amiss. This success is clearly a reflection of the expertise of the organisers; curators of the much loved In:Motion series, the ever popular Love Inn on Cheltenham Road, the WOW stage at Glastonbury and being festival veterans themselves, there is a clear understanding of what does and doesn't work.
The queue to get in was long but manageable and fast moving and the staff were respectful, which is worthy of note considering the frequent harassment at festivals. Alcohol, so often the downfall of a day festival, was not a problem. Thankfully, tokens, or anything of the kind, were nowhere to be seen, with both cash and card widely accepted. They debuted new app Ordoo whereby drinks can be pre-ordered and pre-paid to collect with minimal queues, with an introductory £3 bonus balance, but the system had teething problems due to a lack of internet reception. Along with plenty of normal bars selling the usual assortment of larger and various fruit ciders, there was a cocktail bar with its own stage and a gin and craft ale bar, catering to a range of tastes. Bristol foodies would be pleased to see both Bagel Boy and Biblos represented at the festival, along with a wide range of cuisines. Cookey entertainment, such as the ever-popular inflatable church, which held rolling Vegas-style weddings, and the new temporary tattoo parlour that led to a secret ball pit, help to give the festival its unique atmosphere.
It is in terms of music, though, that this festival excels. Six stages across the two days provided an assortment of settings and a plethora of sounds, each, aside from the main stage, hosting a different genre each day. Though effort had been put into every stage, the greatest upgrade went to the brouhaha, which included giant flashing digital digits, clothes hanging from a washing line, and a substantial sound system provided by LionPulse. The Arcadia Afterburner, the centrepiece of the festival (quite literally, given its location), also deserves a mention, since it has become synonymous with Love Saves.
Notable musical highlights were plentiful. Songs of the day had to go to Chase and Status' 'No Problem', which enjoyed an unexplained revival in various remixes, and the Hype and Hazard's stalwart 'Bricks Don't Roll'. The drum and bass duo themselves played a fantastic set on theArcadiaa stage to wrap up the festival on Sunday, incorporating an eclectic mix of rollers, breakbeats, and according to one Burberry-clad punter, 'dutty wobblers'. Bristol based Hodge and Peverlist attracted a substantial crowd for their eagerly anticipated b2b, combining Peverlist's more minimal approach with Hodge's more aggressive basslines. Hodge earned the greatest reaction for his techno banger 'Mind Games'. Fatima Yamaha, whose brand of electronic disco seems so suited to a festival such as this, performed a fantastic live set on the mainstage.
Though the festival's acts were predominantly DJs, those less electronically inclined were not disappointed. Headlining was New Zealand seven-piece Fat Freddy's Drop. This was well attended and received, providing funky and soulful melodies, as did Toronto-based Badbadnotgood, who came with special guests. Kano brought both a band and considerable energy to his headline set, which had the crowd in a frenzy from opener 'Hail' to finisher 'Garage Skank', one of the most played songs of last year.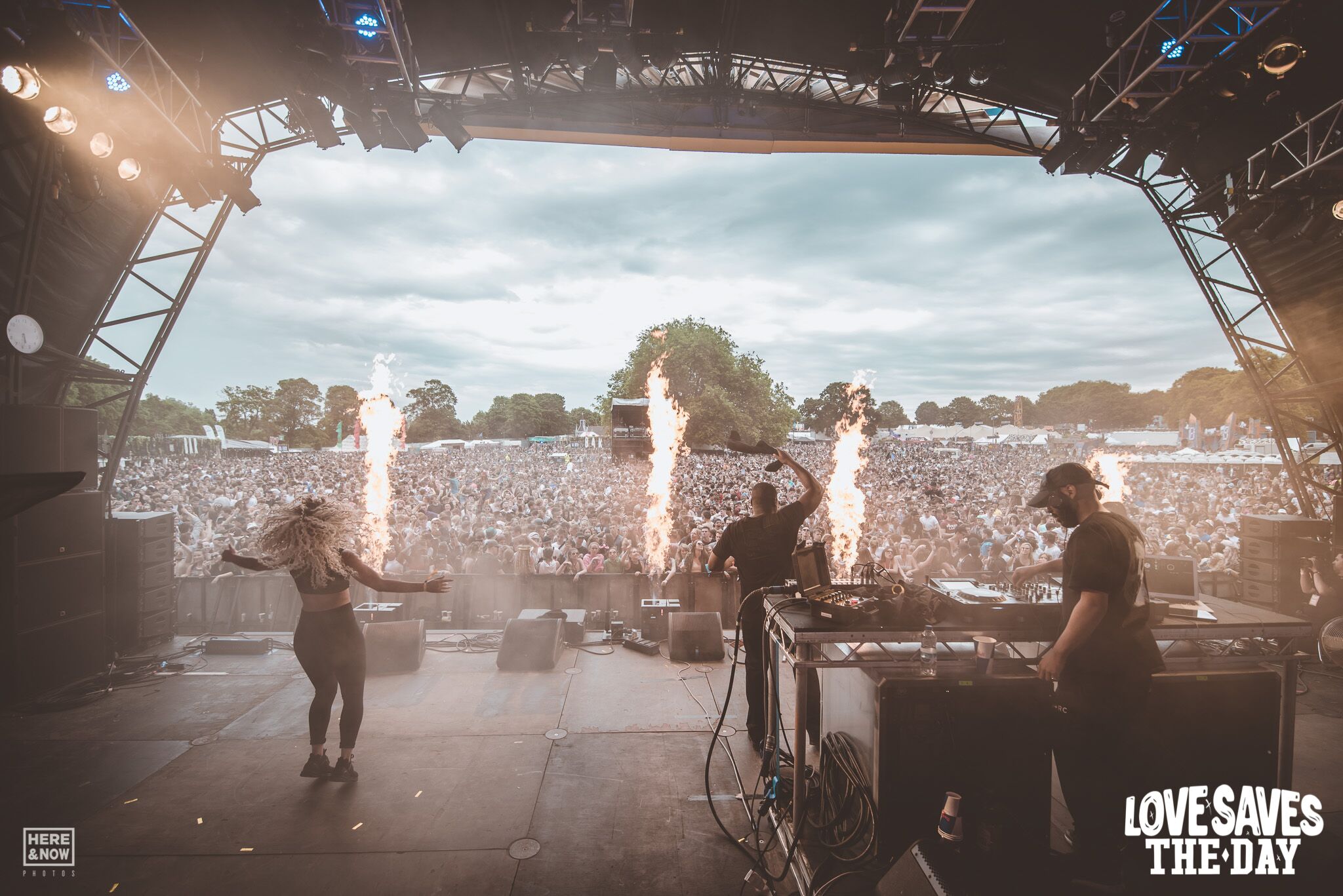 Criticisms are minor; more volume in several of the stages (though we appreciate the difficulty of this with neighbours in all directions). All in all, a great weekend.
THE FESTIVAL IN REVIEW:
PROS:
Quick bar service.
DJs and bands; a variety of music for all.
A fantastic choice of food and drink, as well as craft beers and spirits.
Organisation – 10.0 | Music – 7.0 | Food & Drink – 7.0 | Site Setup – 8.0 | Attention to Detail – 8.0 | Creative Content – 9.0 | Value for Money – 6.0
Overall Score – 55.0/70.0