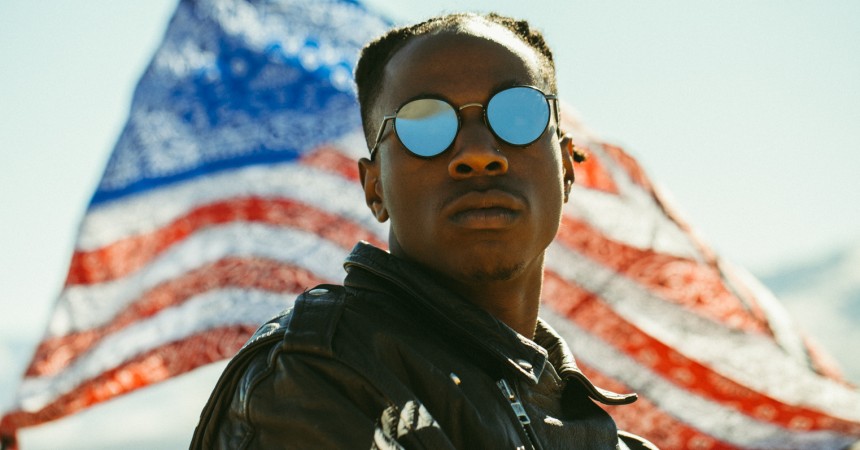 Joey Bada$$ at Motion, Bristol
So high was the demand to see Joey Bada$$ in Bristol following the release of his latest album, 'All Amerikkkan Bada$$', earlier this year, that the gig was moved from the Marble Factory to Motion's cavernous main room. Chants of 'Joey, Joey' erupted as the warehouse packed out a full thirty minutes before the protagonist was due on stage. The excitement was palpable and reached a fever pitch once Kendrick Lamar, Chance the Rapper, Kanye West and Waka Flocka Flame had been blasted from the epic sound system during the fifteen-minute warm-up set. Whilst Big Shaq's 'Mans Not Hot' earned a huge cheer, this was only a bittersweet nod to the UK scene, considering the potential for alternatives from successful UK artists that aren't comedians. 
With the crowd suitably fired up out leapt Joey Bada$$. After a fervent rendition of 'Rockabye Baby', the Brooklyn born rapper stood front and centre, surveying the crowd. Decked out in a red beret and black flak-type jacket, with a huge paisley American flag recognizable from the album cover hanging behind him, he certainly looked the part. A literally towering figure at 6'2", his enormous stage presence did much to conceal his tender age. This aura was in large part thanks to his interaction with the audience. Naturally, performers always praise the crowd, but Joey seemed genuinely excited for what was the first show of his European tour. He talked freely about having to clear his mind whilst introducing 'Y U Don't Love Me' and promised that 'Amerikkkan Idol' was a treat he reserved only for his most energetic crowds. He took extreme care preparing the crowd for a mosh pit for 'No. 99' and prepped the audience by teaching them the words for unreleased single 'Pull Up'.
It must be said, though, that it is easier to captivate an audience when the material being performed is of a standard as high as 'All Amerikkkan Bada$$'. At a time of growing unrest in the African American community, this work pairs political despondency and anger with a hedonism and nostalgia so expertly that it feels both familiar and progressive in equal measure. The dreamy west coast old skool vibe of 'Temptation' betrays the serious content of the track, a feat repeated on 'Land of the Free', which gave the audience a timely reminder that African Americans still bore the "last names of their slave owners". Though much of the subtlety and double entendre that litter his work is missed in a live performance, it is more than made up for with excitement.
Significantly, the show emphasised what a vast and truly impressive repertoire of music the 22-year-old has assembled in such a short space of time. The modicum of tracks from his previous records that made the cut were all highlights. '95 Til' Infinity' couldn't match the emotional tribute to the late Capital Steez that characterised 'Survival Tactics', a song which merited a shout-out to Joey's original 1999 fans, who, in an audience so young, he thought were in a minority. Neither compared to the crowd surge that accompanied 'Paper Trail$', the first verse of which was delivered from a pitch-black stage.
Finishing on what is undoubtedly the most popular but perhaps less sophisticated of his songs, 'Devastated', the crowd were left to ponder what one of America's increasingly influential talents would do next. The Pro Era bosses approach so far has largely mirrored that of renaissance artists, who, in order to push forward, start by looking back. This perspective has been endlessly refreshing whilst mainstream hip-hop and particularly trap risks descending into a money-spinning abyss devoid of any artistic merit, almost akin to EDM. Being as conscientious as he is, it seems unlikely Bada$$ will succumb to the pressure of the market and follow this trend, but he certainly won't be using J Dilla and MF Doom beats for his entire career. Though he may well be on his way to greatness, you'd be mad not to go and see him now.
THE GIG IN REVIEW:
PROS:
Excellent atmosphere.
Great song selection and set list.
Impressive performance and onstage presence.
CONS:
More white teenagers saying the 'n' word than a Ku Klux Klan rally
inSYNC Rating – 9/10