Featured Review: Foreverland – The Raveyard
Foreverland; once again all expectations were met and exceeded. This event basically writes the books on how to create, what can only be described as, 'a fucking sick night'. Foreverland is such an influential event, I'm surprised it hast become a religion yet. On this particular service, 31st October 2015, there were plenty of opportunities to enhance your faith. Grab a pint of communion Fosters from the holy beer pump, feel your ears become blessed from the sounds of Royal-T, Ms Dynamite, Zac Samuel, Kideko and even take a trip to the bouncy cathedral, located right by the ball pit alter. Basically what I'm getting at is if you did not attend this event you are pretty much committing a sacrilegious act of which the only way of gaining forgiveness is to buy your ticket for the next one the second you finish reading this article.
Anyway, let's talk about decoration. This particular edition of Foreverland landed on everyone's favourite October Evening, Halloween (nothing else fun really happens throughout October). So as you can probably imagine, no expense was spared when pimping out The Old Firestation with everything it needed the fit the season. From spider webs to skeletons, complimented nicely from the large variety of costumes, The Old Firestation really was a true rave yard.
What makes Foreverland just that extra little bit special is that, when it comes to musical genres, this event does not discriminate. D&B, House, Garage, Attic, Garden, Next door neighbours hallway, this place has it all. At one point I even heard Ms Dynamite drop Mr. happy followed by gold dust; what a beautiful world we live in. The world was made even more beautiful by the light show that supported this incredible line-up of artists. I haven't seen that many lasers since Star Wars Episode VII. In conclusion, the night was sick and if you are sat there reading this feeling like one silly guy/gal because you didn't go, then maybe you save yourself the embarrassment and buy a ticket next time. Foreverland is scientifically proven to improve your life satisfaction levels by 200% and also allows you to stay forever young. Thanks.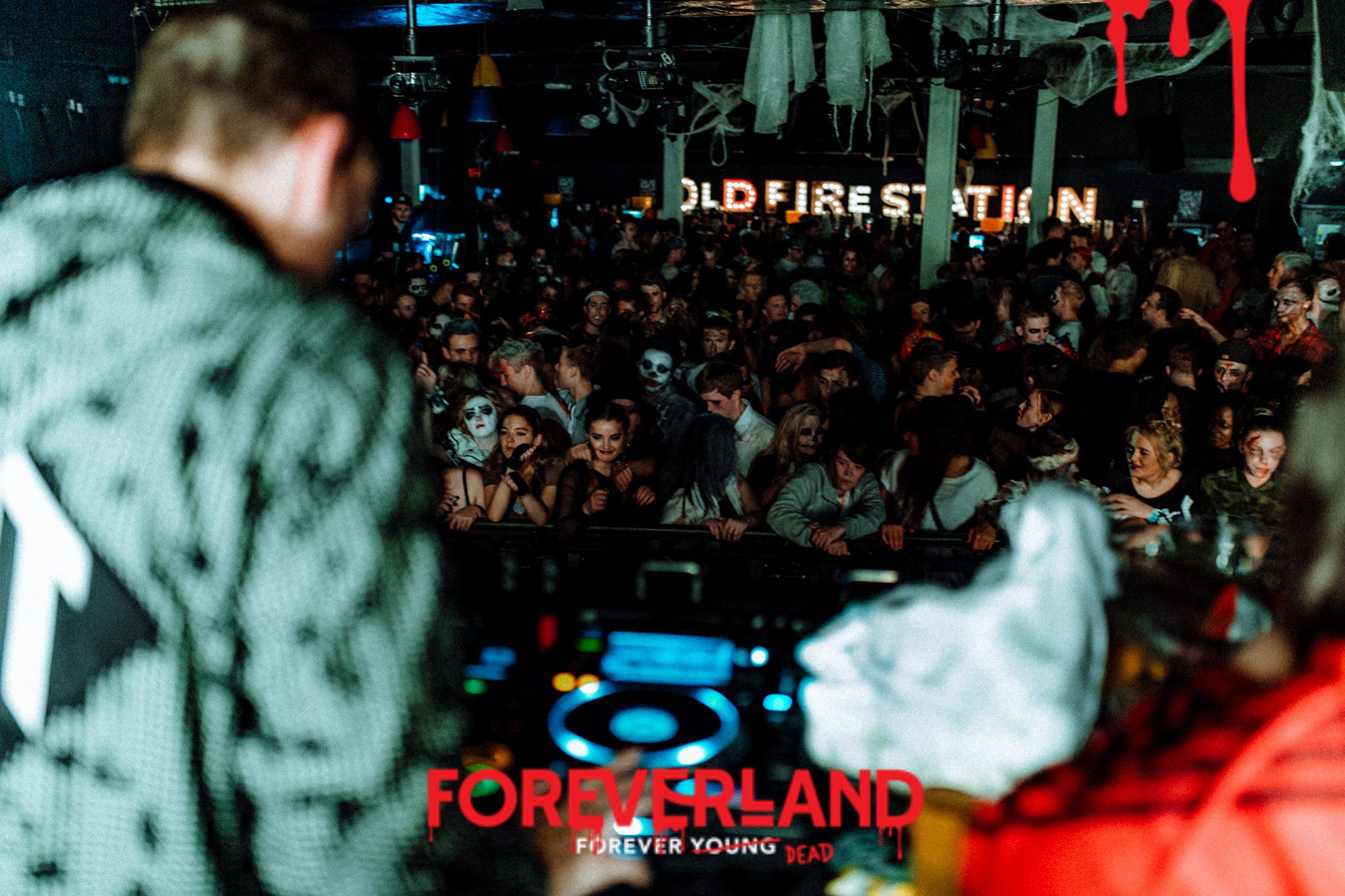 Points of potential improvement: Although Foreverland is far more elite than many other Bournemouth events I have attended, there is always room for improvement. I would of really liked to have seen some live performers such as fire performers, cage dancers or some creepy circus acts, this would have been a very nice addition to the Halloween theme. Overall this event gets a 8/10 from me.
By Connor McGregor
Venue – 8/10
DJ/Band – 8/10
Music – 8/10
Overall – 8/10