Featured Review: Bugged Out Weekender 2016
Bugged Out continues its reputation of the dry January ruiner, laughing in the face of seriousness, whilst celebrating its 5th birthday. The office day finishes at 5pm and you jump into your car to trundle down to sunny Bognor Regis. Going into Butlins is somewhat a weird experience in the middle of winter, but you won't find your typical British family on holiday now; instead hundreds of party-ready ravers. Bugged Out's position of unashamed silliness makes it a surreal, yet incredible experience. Arriving on a beach in January, when it's freezing cold, does pose the question; why do so many people make the annual pilgrimage to the south coast every year?
The Weekender's lineup is always solid, pitching to those who fancy themselves as connoisseurs of dance music; DJ EZ, Joy Orbison, Âme, Bicep and Armand Van Helden to name just a few. Although Bugged Out seems out of the ordinary because of the many arcade machines, rows of holiday chalets and the in-house Burger King, it's strangeness works, and gives the Weekender something that you won't experience at any other music event. Butlins' alcohol license times makes the event even better, with Saturday's party going on until 7am.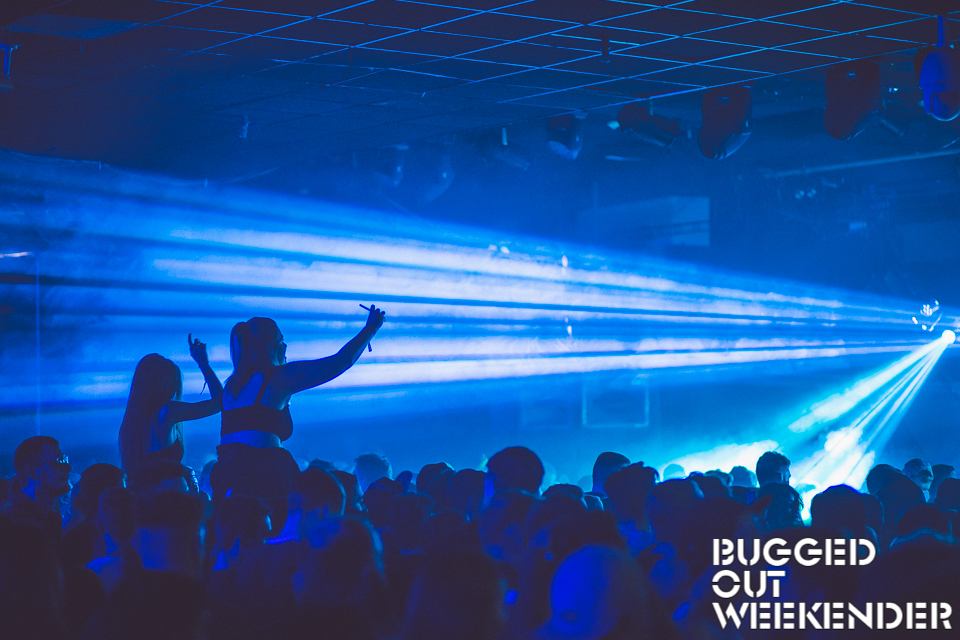 All of this seems so trivial, but without it, it wouldn't be Bugged Out. The Weekender has a vibe like no other and, despite it being winter, spirits are never running low. Both DJs and festival-goers are on board chasing away January blues and post-Christmas bank accounts.
Friday's first port of call is to see the Discreet party. The local events organiser had been granted their own room for Discreet resident DJs, along with a Star Wars theme. Discreet's parties are always themed, and this one seemed fitting after the release of the latest Hollywood blockbuster. Next stop for our Bugged Out was a set from UK garage master DJ EZ. The Londoner played a host of garage bangers to a rallied crowd, as well as mixing in some pop favourites. EZ's set was one of the best we've seen and is certainly a highlight from this year's festival.
The night continued by flitting between house duo Dusky and tech star Boddika. Dusky played an all-encompassing set, much better than the one at Halo in Bournemouth a few months previous. Although the lack of Dusky's most well-known song 'Careless' certainly let them down. But, perhaps we missed it when we were gawping at Boddika. The London DJ played a dark, techno set showing off his talents and mixing in some Boddika favourites. This allowed electronic producer George Fitzgerald to continue the night, showing off an eclectic mix of tech songs, and tracks from his 2015 debut album.
Friday night's final hour was spent watching one of the best tech/disco DJs around; Joy Orbison, who was back-to-back with German heavyweight DJ Gerd Janson. The two DJs' styles work well together, and it was indeed a set for remembering. The duo played all the way until 6:30 but was such that I didn't once want to hit the hay.
One thing you have to love about Bugged Out is the hotel. It's a glorious feeling to head in from the January weather, knackered from dancing, into a warm bed. Not your usual festival vibes of sleeping in tents, but somehow this bizarre twist makes the event work. The Weekender prides itself on being a full-on, weekend-long party, and after one night you can see why this rings true.
With a lineup like the one that was on offer, Saturday night saw us sticking firmly at the main stage. First up was German tech/house duo Âme. It was a deep set, but one with rhythm, and Âme's production and light show was second to none. The use of blue and green patterns was perfect for the set. As Âme drew to a close, the distinct figure of house DJ Eats Everything emerged behind the decks. The Bristolian is someone you must see, and his set mixed together house, tech, disco and funk, making you wish you were sipping a Piña Colada on a beach in Ibiza rather than being in Bognor Regis.
Centre stage was full when the great Armand Van Helden took to the decks. A rare opportunity to see the American DJ, and at such a small venue. Van Helden's set was perfection; a disco night to remember, with all the Van Helden classics thrown in for good measure! During 'You Don't Know Me' confetti cannons were blasted into the crowd, which received a raucous of exciting screams. Every notable 90s house track got be heard from the speakers, making every single person in the year smile from ear-to-ear. Armand Van Helden is a must see DJ, so don't miss the opportunity. Saturday night continued until 7am, with Scottish techno DJ Jackmaster and dubstep turned house head Skream. The two played a tight set, and made the end to Saturday night's action evermore exciting. It was disappointing, though, not to be let into the after-hours party, but the comfort of a hotel seemed increasingly appealing too.
As Sunday began, we got prepared to jump into Butlins' splash pool to see tech/house duo Bicep head up the afternoon pool party. It was an interesting experience mincing around in a lazy river whilst techno was blasted out somewhere above you. A surreal experience to say the least. Despite the effort to bring a bit of sunshine to January, though, I'm not entirely convinced the idea worked, as acoustics at an indoor pool party are somewhat very different to being at DJ set outside.
Although we had reached Sunday night, spirits were in no were dampened; heading out to watch an inSYNC favourite, Swedish tech DJ Jonas Rathsman. A man who certainly has many talents behind the decks. Please read our review of Rathsman's set at Motion in Bristol: http://insynctm.com/jonas-rathsman-at-motion-bristol/. House giant Julio Bashmore followed with an acceptably upbeat set, keeping everyone in check before Canadian superwoman Heidi takes over the decks.
After one last room change, we headed over to the previously unheard of The Black Madonna. The Chicago lady's set is full of energy, and is utterly infectious to the crowd. She dances around blending together flowing techno with some true musical classics. 'Lazerbeams' by fellow American Green Velvet completely goes off, with 'Under Pressure' by Queen and David Bowie is a much-needed injection of euphoria.
Bicep closed the 2016 Weekender, delivering fierce pace, and continuing an extra hour that was originally planned. Deep tech rang around the room, the duo teasing hit song 'Just' for a few minute before dropping the instantly recognisable melody.
Anyone who's been to this festival knows it's a game of two halves. There's Bugged Out's main arena, and then the after parties. You have some of the world's best DJs playing on three easily accessible, yet small sized venues, but on the flip side you can always head back to your hotel room to chill out in the warmth. And, for some weird reason Bugged Out is guilt-free. Everyone is there for the same reason; to have fun!
Bugged Out isn't your average festival! It brings the month of January out of the dark ages and injects some fun into the otherwise dull winter. There aren't many festivals in the UK where you can enjoy an incredible headline set from Armand Van Helden as much as dancing on the hotel balcony at midday to someone's portable speaker.
Our second year at the Bugged Out Weekender was an incredible success; a guarantee that'll we will return in 2017!
Tickets for next year's festival are already available, so secure yours now: http://buggedoutweekender.net/tickets/
Organisation 9/10
Music 9/10
Site Setup 9/10
Festival Communication 9/10
Attention to Detail 7/10
Creative Content 6/10
Value for Money 8/10
Overall 9/10