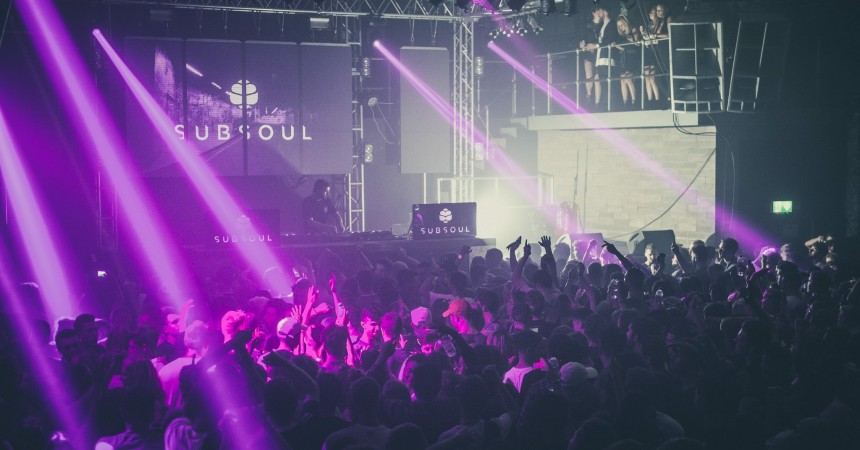 Subsoul (In:Motion Series) at Motion, Bristol
Founded by Richard Parkinson, known by his DJ name Richason, Subsoul began as a YouTube channel promoting the best in underground house, garage and bass music. Now with over 500,000 subscribers the social platform has turned to creating some of the UK's best underground music events. As part of this year's annual In:Motion Series at Bristol's Motion nightclub, Subsoul hosted its own night bringing in a number of big name artists including Portsmouth boy Shadow Child and bass king Chris Lorenzo.
Kicking off Motion's main room for the night were none other than Bristol's very own tech/house duo Icarus. The pair made waves in the underground music scene at the end of 2015 with their track 'Ride This Train', that was heavily support by BBC Radio 1 and played for the first time by Annie Mac. The duo's 2016 tune 'Home' featuring Aurora also helped gain the pair even more success. Icarus were certainly a good crowd-warmer, playing an hour set to the quickly filling room. The Bristol boys are definitely worth looking out for in the next twelve months as they make their mark on British electronic music.
Icarus were followed by house favourite Friend Within. The DJ/producer has enjoyed a massive amount of commercial success with his colossal club tune 'Renegade Master', which helped him gain plays from a number of big name DJs including Skream, Benga, Monki, Annie Mac and Mistajam to name but a few. 'Renegade Master' also gave the Liverpudlian DJ a springboard to work with of the UK's biggest artists, and in 2014 released a track alongside Disclosure named 'The Mechanism'. After seeing Friend Within a number of times, you can always see how talented he is, playing his way through some of the world's biggest house bangers and showing his vast variety of music from piano house to minimal techno and everything in between. Although, I can't say this performance was as good as his appearance at the Vamos Stage at Boomtown this year, it was certainly enough to carry the crowd and prepare them for the incoming Shadow Child.
Portsmouth DJ/producer Shadow Child has made a name for himself in the underground music scene. Previously releasing music on Claude Von Strokes Dirtybird label he released a number of tracks, before starting his own label Food Music with fellow Portsmouth-based DJ Lewis, who makes up one half of production duo Kry Wolf. The thirty-nine year old never fails to impress, and although not exactly an impressive spectacle on the eye, on the ear Shadow Child knows his way around a pair of Pioneers. The DJ always throws in a number of big tracks, as well as his own, never failing to play '23' featuring Tymer. I'm sure this won't be the last time we see the DJ as Shadow Child always seems to be on the circuit. And, with his latest album 'Connected' having been released in the middle of October it seems even more fitting for him to be at clubs up and down the country in the coming months.
Changing the vibe of the night was bass king Chris Lorenzo. After our witnessing of his incredible set at Boomtown on the Banghai Palace stage in August, it was hard to say we weren't excited to see the Birmingham producer again. Lorenzo's energetic sets are not to be missed, and raised the roof at Motion with some hard-hitting bassline. Not only playing his very own 'The Calling', Chris Lorenzo playing a number of crowd pleasers; 'Get to the Chopper' by Cause & Affect and My Nu Leng's 'Underground Traffic' to name just a couple. Showing off his production work, Lorenzo even played a number of songs he has written and produced for other DJs like Hannah Wants' 'Rhymes'.
After accidentally stumbling across them at a club in Bournemouth the previous week, it was good to see tech/house duo Camelphat. The pair were a great end to the packed night of big names, showing off their talents, as the duo move into their ninth year as Camelphat. Their house tracks kept Motion alive until 5am, playing their very own 'Haus' and a number of up and coming house tracks including Raffa FL's 'How We Do'.
What can I say in summary? Only this…Subsoul, keep doing what you're doing.
Venue – 9.5
DJ/Band – 9.0
Music – 9.0
Overall – 27.5