Secret Garden Party 2017
"THE LAST EVER SECRET GARDEN PARTY…"
Set in the tranquil Cambridgeshire countryside, Secret Garden Party has played host to some of the UK's best art installations and musical acts for the past fifteen years. An event that truly encompasses the meaning of high quality festivals incorporating great food, drink, art and music. SGP has made a name for itself with well thought out, aesthetically pleasing stages and a lineup that suits all musical tastes, as well as an annual theme.
After announcing that 2017 would be the very last Secret Garden Party, expectations were high to provide an experience that would be one of the best weekends of this year's festival season. Festival organisers worked hard to once again show off Secret's magic touch with stages buried deep in the woods and more than enough areas to explore and dance through day and night. The multi-genre lineup provided 'gardeners' with a taste of everything from indie and electronic to techno and drum & bass.
Secret Garden Party has arguably the most stunning site of any festival in the country, giving it a true garden feel. The festival's infamous lake makes the site, providing festival-goers with not just an incredible view, but a place to relax, swim and row boats. This ultimately sets the festival apart from anything we've ever experienced before with the lust of trees and flowers surrounding the site adding an even greater positive effect to the weekend. The festival's sweet size is also an attraction; 25,000 attendees makes it the perfect size with ample space for drinking, dancing and chilling. Nothing on site is more than a fifteen-minute work, and when it gets muddy this is certainly a godsend.
It's very hard to imagine not having a festival in its current place in Huntingdon and we only hope organisers have something clever up their sleeves for the years to come. Our following A-Z gives an insight into just some of the fanatical highlights we were grateful to be a part of at this year's serious party!
A is for A-List
Every year Secret Garden Party host an annual theme incorporating it into the festival's art installations and giving punters the opportunity to dress up in the appropriate fancy dress. 2017's theme was, very fittingly, A-List. People dressed in a whole host of celebrity outfits, which littered the weekend's visual spectacle. The festival's Lake Stage, an island constructed in the lake's centre this year hosted a miniature White House, paying homage to the Trump administration.
B is for Burning
Saturday night at Secret is home of the infamous burning of the lake's centrepiece, as well as a fireworks display. The party island could be reached by rowing boat, allowing everyone to dance at the festival's epicentre; another element to the festival that makes it evermore unique. Each year the island is burnt down in spectacular fashion, something that seemed, even more, fitting this year with the state of the world's current political affairs.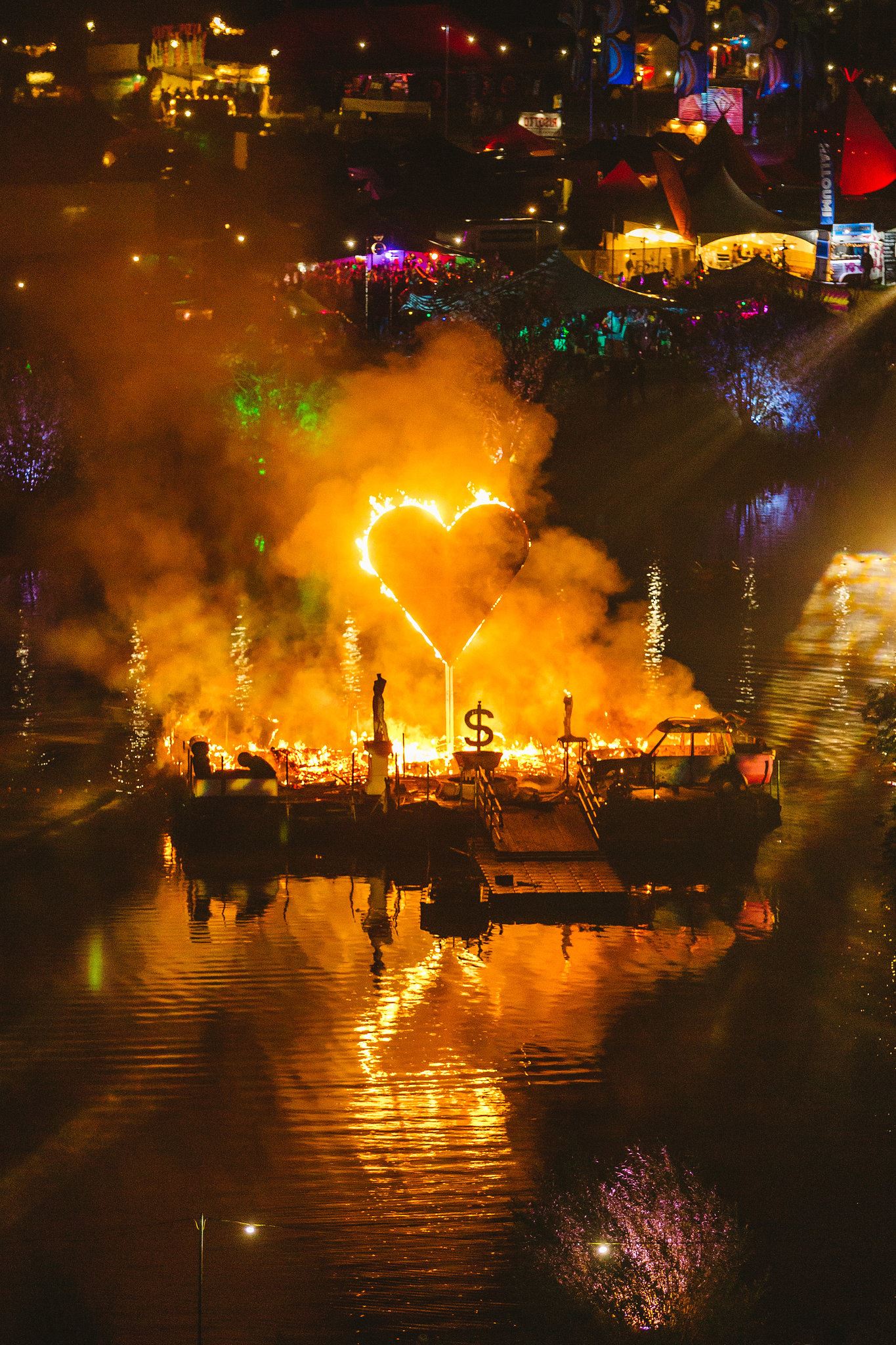 C is for Colosillyum
Laid out like The Temple at Glastonbury, Secret's Colosillyum is a place filled with madness and mayhem. Home to the festival's dnb and bass scene, the large circular stepped arena is where the stage gets its name. The stage's bright colours and superb surround sound speakers help DJs deliver hard-hitting sets. Drum & bass mogul Sub Focus delivered an unforgettable set, keeping the crowd on a high level throughout. It was definitely a standout performance from the weekend.
D is for The Drop
Secret Garden Party's dance music mecca; The Drop features the best in British underground techno and bass to house and garage. This year's lineup featured DJ sets from techno producer Jonas Rathsman, tech/house Bristolian Eats Everything, BBC Radio 1's B.Traits and Scottish tech boy Jackmaster among many others. The conveniently placed stage offers a dance area which backs up a slope, giving ravers further back a raised and better view of the DJ booth. Something that makes The Drop one of the most unique dance arenas at any UK festival.
E is for Early Mornings
Being in the back garden of a manor house really helps when you're running a festival. Secret's impressive license times make it one heck of a party with Saturday and Sunday nights not reeling it in until 6am! Sunglasses at the ready; the experience is evermore surreal as the sun rises above your head and the DJ just keeps spinning.
F is for Fox
Secret Garden Party's impressive Fox stands high above the festival. Made from chicken wire and straw, the Fox is another true icon of the festival's artistic spectrums. 2017 saw the Fox get an A-List celebrity makeover, dressed in a suit to emulate once again the President of the United States. Conveniently named 'Trump Fox', the statue was the largest installation on site, proudly making a statement based entirely on SGP's annual theme.
G is for The Great Stage
SGP's colourful main stage not only holds some of the weekend's best bands but also stands firmly atop the artsy representation of the festival. The teardrop-shaped stage features the words 'Secret Garden Party', each in their own unique style, colour and typography. Over the years The Great Stage has featured some incredible headline acts with Public Enemy, Caribou, Soulwax, and more gracing The Great Stage.
H is for Hay Bales
Secret uniquely use hay bales around certain stages, creating a platform for dancing and raving. Conveniently placed around a DJ booth gives party-goers a raised area high above the crowd to improve view and give more room to dance. As well as this blocks of hay bales are situated across the site for sitting on, chilling out and enjoying the spectacular view.
I is for Imagination
Secret Garden Party is a haven for artistic imagination. The way the site is constructed and the way each stage is placed improves each person's experience, but also allows you to dive headfirst into a world of music and arts. Secret Garden Party will truly be missed on the UK festival scene.
J is for Jagwar Ma
Australian indie electronic trio Jagwar were back in the UK once more for an exciting mid-afternoon set on the Great Stage. The band have been making waves with their unique electronic style since the launch of their debut album, 'Howlin'', back in 2013. The band have been in the UK a considerable amount in the last twelve months, including recently supporting Australian counterparts Tame Impala on their previous tour. The booking is one that fitted the Secret bill very well, and it definitely won't be long until the trio are back in the country once more.
K is for Krankbrother
Friday afternoon at The Drop, with the party in full swing and a whole host of big name DJs playing one after another, it was an opportunity to bask in the sound of London tech/house duo Krankbrother. The pair not only produce music but run a regular event in the capital and front their own record label too. The performance kept onlookers on their toes, playing some flowing electronic tracks like their own production 'When You're Watching Me', and setting the bar for the following DJs.
L is for Lake
For years, fans of the festival have held SGP in high regard as one of the best events in the UK. Secret Garden Party's natural lake is an impressive feature; a hub of activity, fun and creativeness. The lake is truly the festival's centrepiece and is definitely something that will be sorely missed at other festivals now Secret is no longer.
M is for Metronomy
Ever since the release of their fifth studio album, 'Summer '08', last July, Metronomy have got themselves some pretty big name gigs. The new record has been held in site high regard by critics and headline slots at Glastonbury's John Peel Stage, Secret Garden Party and Blissfields have seen the band through a successful summer. Metronomy are a truly fun and energetic live band and suit a headline position very well. It will be great to see them on tour this Autumn.
N is for Natural Beauty
Secret Garden Party has, arguably, the most naturally beautiful site of any festival in the UK. The lake, as we've already mentioned, and stunning gardens come together to provide punters with a wonderful experience, with a feeling of uplifting positive energy. This helps to create the festival's unique vibe and helps intertwine each of SGP's stages with the landscape.
O is for Organilla-Crafty-Boom
One of Secret's many unique art installations, the Organilla-Crafty-Boom is a harmonic device that was at the festival to "woo souls with its playful character and Steampunk looks." The invention encourages music and the collectiveness of making music as a group. Many people can use the Organilla-Crafty-Boom at once, pumping its handles to create polyrhythms and harmonious vibrations.
P is for The Pagoda
The Pagoda is another stage at Secret that is totally unique. It's a spot to dance the night away in the idyllic surround of the festival's site whilst simultaneously floating on the lake. The stage has seen an impressive roster of DJs, from many different genres, over the life of the festival. Annie Mac, Skream, Jamie Jones and Lee Foss to name but a few.
Q is for Quality Food
The festival has an impressive selection of street food spread throughout. What is even more impressive though, is Secret Garden Party's very own restaurant. Top London chefs were serving up some of the best food available at any UK festival with three-course meals and bottles of wine, this is another touch of quality from festival organisers.
R is for Rain
Secret Garden Party seemingly has a curse for bad weather. In 2015 the festival was a complete washout with the rain coming down from minute zero until the last note was played. This year, the festival was incredible for the first two days, but as the rain came down on Saturday, it was just reinforcing the fact that Secret really needs some inside areas. It's such a great feature of the festival that everything is surrounding but art, but the lack of tents is a serious issue in bad weather.
S is for Sunflower Field
That's right. Secret has its own stunningly beautiful bright yellow sunflower field. Punters can wander through and take in the surroundings. The sunflowers add another dynamic to the festival's scenery and further diversify of the landscape. SGP is truly a remarkable site.
T is for Tom Misch
Marked as one of Britain's brightest young musical prospects, Tom Misch has started gaining a solid following of fans over the past twelve months. Playing his unique style of chilled organic music, Misch has shown his talents for creating music that pulls influences from many different influences including hip-hop and soul. His main stage performance at Secret was much deserved and the large crowd were optimistic about his well thought out set. Tom Misch is set on big things so be sure to watch this space.
U is for Uninhibited Partying
The life of the party is the very premise of Secret Garden Party and has proved itself with its wild DJs sets, woodland raves and late license times. It is a place that characterises the definitions of dance music culture, art and good vibes to create one of the best UK festivals. It will be sorely missed by many.
V is for Vojta
It's always great to discover a new artist when wondering through a festival. Meandering through one of Secret's wooded areas found us facing multi-instrumentalist Vojta. His skills in the violin and oddly didgeridoo make for some ultimate chilled out vibes similar to the style of artists like Emancipator and Bonobo. His live looping and multi-instrument use are very impressive to watch.
W is for Woods
Secret has a wealth of wooded area to explore and discover. A multitude of stages lie within sporting electronic and live music of many different genres. Guest appearances by big-name DJs also took place, especially in The Labyrinth, but cleverly set times were left off the programme. DJ's names were included but with no one knowing who would be on when avoided mass overcrowding at some of the festival's stages. Another feature of the festival that only enhanced your personal experience. Each wood also had its own bar for convenience of getting drinks.
X is for X-Rated
Like any good festival, SGP embraces people of all sexualities and genders. Little Gay Brother is a velvet goldmine of sex, debauchery and outrageousness; somewhere to dance the night away in glittery naughtiness and all kinds of high jinks.
Y is for Yoga
Embrace the benefits of yoga. SGP offered early morning yoga classes to revitalise you from the heavy night before. In the light of the warm early morning July sun, this experience was a godsend. Another little touch to add to your festival experience.
Z is for ZZZ
With DJs spinning records 'til past sunrise every day, you can't be blamed for taking three days to recover from the party. It is truly a unique experience to still be dancing in the light of the morning sun.
Secret Garden Party. Please return someday.
THE FESTIVAL IN REVIEW:
PROS:
Incredible art installations and stages. Amazing scenery and landscape with the lake at its centre.
Excellent party atmosphere with late-night license times.
Diverse bill of artists ranging from drum & bass and techno to indie and reggae.
CONS:
No main indoor stages to get out the rain.
Organisation – 9.0 | Music – 8.5 | Food & Drink – 7.5 | Site Setup – 9.0 | Attention to Detail – 8.0 | Creative Content – 10.0 | Value for Money – 8.5
Overall Score – 60.5/70.0