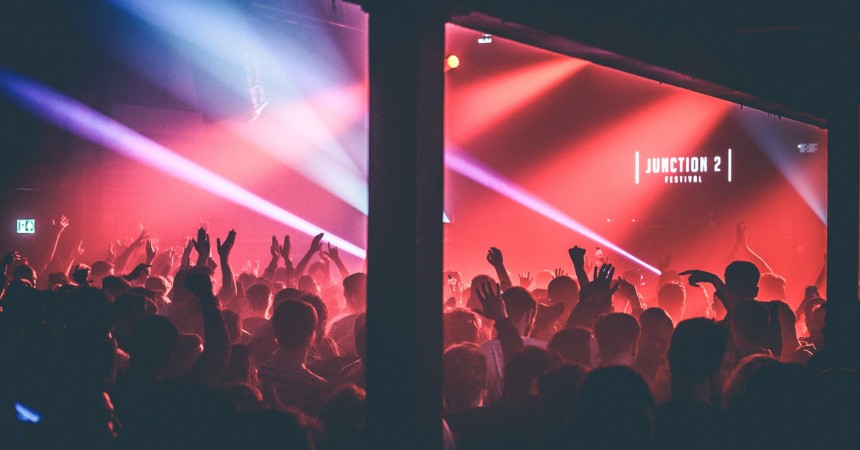 Junction 2 at Motion, Bristol
Well, where do we start? It's hard to put into words how good of a techno master class this event was. From start to finish, every room in Bristol's Motion nightclub blew us away with quality sets and song selection from every single DJ.
The night started off in good fashion as we must admit, Motion have now sorted out their queueing system to get into the venue. It flows much quicker than before and has eliminated the opportunity for the queue jumpers to push in! A one-way system was implemented within Motion, to make sure there was no overcrowding. This meant that there was adequate space for partying with no congestion. Before, when the venue was at full capacity, it was getting too overwhelming. Now that's out the way, we can truly focus on the music.
The first set of the night was from Paula Temple, a producer who absolutely smashed the Motion main room out of the park. A fast tempo set made sure the ball was rolling for what was to come. A personal highlight was when she ended on her own production entitled 'Gengen'.
As you probably already know, the night comprised of three rooms with a heavyweight lineup of tip-top techno DJs from across the UK and Europe; a new warehouse, Motion main room and The Tunnel. We spent most of our night in the Motion main room, although after Paula Temple, we went to see the new warehouse, at which Scuba was playing his wide range of music material.
Following Scuba's set, we stayed for the start of the proclaimed 'King and Queen of Techno', Adam Beyer and Ida Engberg. Having only seen the start, we can't comment on the whole set, but we could see that it was going to be one to remember. Our last set of the night was the highly-anticipated Russian producer/DJ Nina Kraviz. This can simply be explained as a techno journey, drawing in the biggest crowd of the night. One of the things that stood out about her set was her crowd engagement. By this, we mean her constant dancing and looking into the crowd to see what vibe they are feeling. We were thoroughly entertained for the full three-hour set!
We at inSYNC had a brilliant time at this one and are looking forward to Junction 2 Festival on 9th of June in London. Tickets are still available on their website www .junction2.london, tickets are on 5th release so don't sleep on it!
THE GIG IN REVIEW:
An excellent roster of world-class DJs.
Gave us a taste of what is to come at Junction 2 festival this year.
Problems with queues and over-crowding resolved by the nightclub.