inSYNC Festival Wrapup
It's time for the annual inSYNC Festival Wrapup; a quick review of our summer antics during festival season 2018. Relive some of the best moments of the summer all on one page.
Love Saves The Day – A local treasure in Bristol, Love Saves The Day has continued to impress with outstanding production across all of its stages and a lineup to match. For a number of years, festival organisers have worked up to produce an all-encompassing electronic lineup that features artists from the entire spectrum of dance music. The festival is just two days but it has enough to match any full-length camping festival. Saturday saw dance legend Fatboy Slim headline alongside techno duo Bicep, modern jazz extraordinaire Tom Misch and electronic producer George Fitzgerald; an eclectic range to say the least. Sunday's vibes took a slightly different approach with 2017 Mercury Prize-winning producer Sampha headline with hip-hop star Loyle Carner, reggae/dancehall legend David Rodigan and electronica DJ Nightmares on Wax all offering support.
inSYNC Rating – 9.0/10.0
Read our full review by Evan Harris here: http://insynctm.com/featured-review-love-saves-the-day/
Mutiny Festival – Portsmouth's Mutiny Festival returned for its fifth birthday celebrations on May Bank Holiday weekend. Mutiny has become known as a party destination for the south coast. And, this year, it had the weather to match. Despite a lack of production, the festival always boasts a strong lineup of artists from a multitude of genres; rap, grime, drum & bass and bassline to name just a few. This year, organisers showed off not one but two headliners per day. Saturday saw the big man himself, Dizzee Rascal, tear up the main stage. And then later, a drum & bass masterclass from heavyweights Sub Focus and Wilkinson playing a back-to-back set. It was a huge shame that this year's Mutiny was cut short after the discovery of three festival-goers who sadly passed away from drug overdoses during the festival. Organisers subsequently cancelled the Sunday whilst an investigation took place. We are yet to see if the festival will return at all next summer.
inSYNC Rating – 6.5/10.0
Read our full review by Luke Jackson here: http://insynctm.com/mutiny-festival-2018/
Common People – A part of the Bestival family, Common People has been running for a couple of years in Southampton and Oxford on late May Bank Holiday weekend. Common People brought a slice of Bestival magic to day festivals and helped kick start the UK festival season. The colourful decor and eclectic lineup was fun for everyone of all ages and not only prepared festival-goers for Bestival and Camp Bestival but showed how a day festival should be operated. British pop sensation Lily Allen took charge of the Main Stage on Saturday with '80s pop group James and popular girl band All Saints providing support. Sunday was dubbed 'Disco Day' by organisers and featured the legendary Jacksons as well as Prince's ex-band The New Power Generation.
inSYNC Rating – 7.5/10.0
Read our full review by Maisie Durrant here: http://insynctm.com/common-people-2018/
Gottwood Festival – One of the best underground dance festivals in the UK, the last nine years has seen Gottwood cement its position as a mainstay in the country's festival season. Organisers always boast an impressive lineup of the world's best DJs and producers coupled with inspirational production and well thought out stages intertwined with the natural beauty of the festival site. Gottwood continues to feature countless incredible DJs. This year was no exception with Ben UFO, Hunee and Crazy P performing standout sets.
inSYNC Rating – 9.0/10.0
Read our full review by Luc Goddard here: http://insynctm.com/gottwood-festival/
Isle of Wight Festival – 2018 saw Isle of Wight Festival celebrate its 50th anniversary. With that in mind, organisers booked another all-star lineup. Despite a lack of production elements or late night action, Isle of Wight has held its position of one of the UK's largest festivals for a very long time. As per the norm for the festival, it featured four headliners instead of the conventional three. Leicester rock band Kasabian and electronic pioneers Depeche Mode played arguably two of the best sets of the summer with Liam Gallagher and The Killers also filling Main Stage slots.
inSYNC Rating – 7.0/10.0
Read our full review by Tobi Stidolph here: http://insynctm.com/featured-review-isle-of-wight-festival-2018/
Love Supreme – The UK's leading modern jazz festival, Love Supreme, has certainly cornered a niche. Their unique lineups and family-friendly atmosphere has allowed them to organically grow into a leading festival. Legendary disco group Earth, Wind & Fire took a headline slot at this year's Love Supreme alongside Elvis Costello & The Imposters, Steve Winwood and George Clinton's Parliment Funkadelic. Festival organisers also brought in some of the new artists on the scene; Tom Misch, Mavis Staples and Bombay Bicycle Club frontman Jack Steadman's new jazz-inspired project Mr Jukes.
inSYNC Rating – 8.0/10.0
Read our full review by Ryan Tomas here: http://insynctm.com/love-supreme-2018/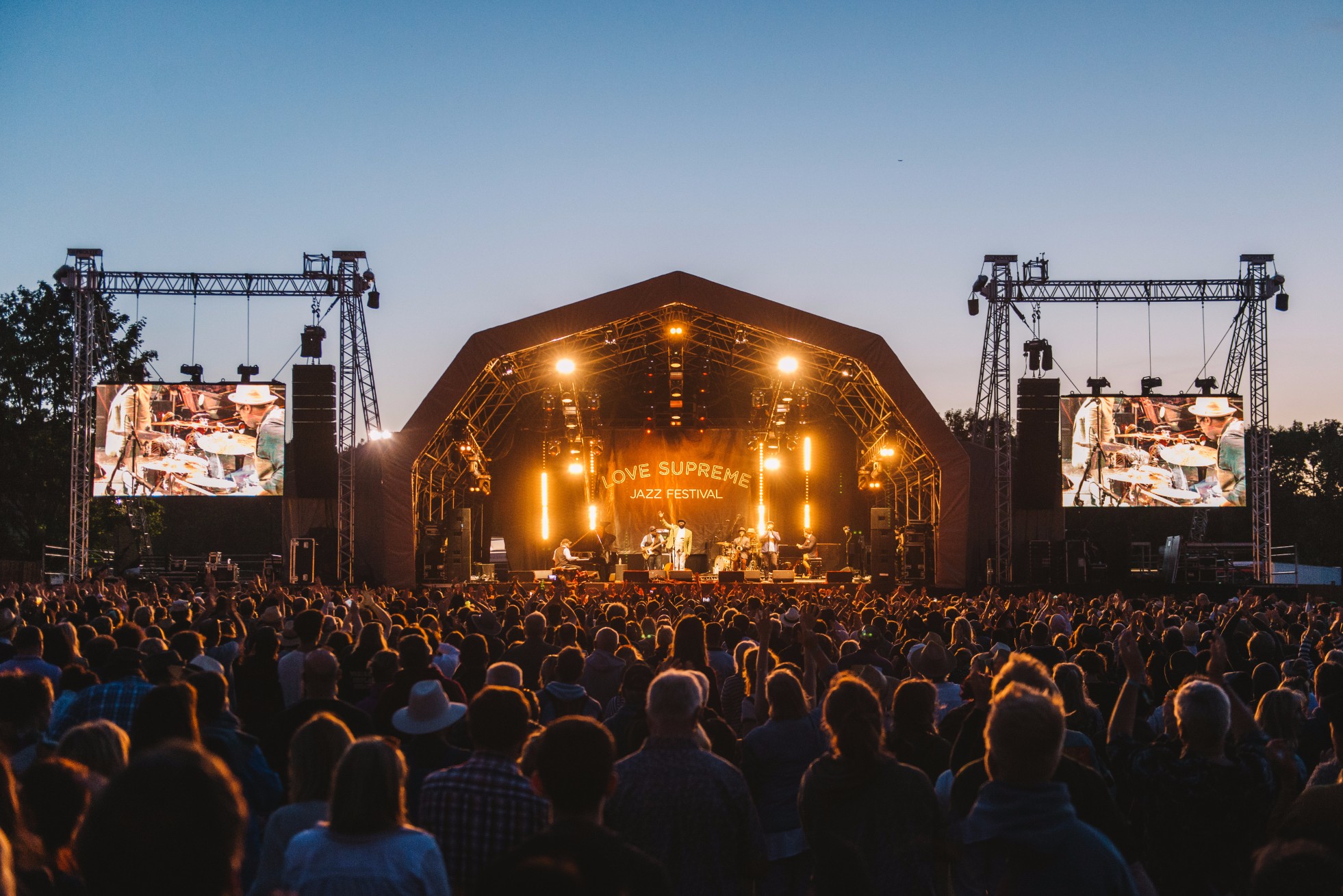 Farr Festival – Farr has risen to become one of the UK's best underground dance music festivals alongside Houghton and Gottwood. 2018 saw organisers add an extra day to the festival for the first time and bring arguably one of the best electronic lineups of the year. Mount Kimbie, Tom Misch, Daphni, Dixon and Maribou State are just a small selection of artists from the jam-packed bill. The festival's attention-to-detail and production values help make Farr a must visit for all the electronic music lovers out there.
inSYNC Rating – 9.0/10.0
Read our full review by Ethan Jones here: http://insynctm.com/farr-festival-2018/
Truck Festival – Indie's number one festival, Truck, has been running for two decades championing the UK indie scene. Sometimes referred to as 'The Reading of Indie', Truck is a no-frills festival but hosts an impressive roster of artists. Electronic pop group Friendly Fires, national treasure George Ezra and Brit rock band Courteeners featured as headliners with De La Soul, Jack Bugg, Editors, Everything Everything and Circa Waves offering support. Festival organisers always help to support new bands breaking into the scene by featuring a number at the festival. This year Pale Waves, Black Honey, Goat Girl and Dream Wife were all featured.
inSYNC Rating – 8.0/10.0
Read our full review by George Hall here:
Bestival – Over the last fifteen years, Bestival has become a household name in the festival industry. Curated by ex-BBC Radio One DJ Rob da Bank, Bestival is known for its superb production and colourful themes and sets. Now settled in its new home at Lulworth Castle in Dorset, it was a scorching weekend for attendees of Bestival 2018. This year's annual theme was Circus and saw a whole host of circus-style acts come to the festival. Not to mention the return of the World's Biggest Confetti Cannon. Bestival usually hosts an eclectic lineup of the best current artists and this year was no exception.
inSYNC Rating – 9.0/10.0
Read our full review by Tobi Stidolph here: http://insynctm.com/bestival-2018/
Boomtown – Boomtown with its niche lineups and all-star productions has risen to become the best festival in the UK, rivalled only by Glastonbury. This year the festival celebrated its tenth anniversary and booked in one the festival's biggest ever lineups. The crazy immersive experience that is Boomtown changes year-on-year with a running storyline shaping the festival's landscape. Gorillaz, Die Antwoord and Limp Bizkit took headline sets on the infamous Lion's Den stage. If you're a festival lover then Boomtown is an experience that shouldn't be missed.
inSYNC Rating – 10.0/10.0
Read our full review by Tobi Stidolph here: http://insynctm.com/boomtown-2018/
Victorious – Victorious has become one of the country's best urban festivals. Set next to the sea but in the heart of island city Portsmouth, Victorious has brought some humongous acts to the south coast. With the smell of the sea in the air and nautical theming at the festival, this year organisers of Victorious played host to Brit rock band The Libertines and indie rock ground Kaiser Chiefs on Friday as well as Paul Weller, Paloma Faith, The Prodigy and Years & Years.
inSYNC Rating – 7.0/10.0
Read our full review by Mollie Griffiths & Joe Harvey here: http://insynctm.com/victorious-2018/
Festival No.6 – This might of been the last Festival No.6 "for now", but this festival tucked in the corner of Northwest Wales is really 'a festival like no other'. The event is set in the beautiful village of Portmeirion, a Mediterranean-style village that was the life's work of British architect Sir Bertram Clough Williams-Ellis, built between 1925 and 1975. This setting makes Festival No.6 one of the most unique festivals in the whole of Europe and organisers combine music, the arts, comedy and artisan food & drink. This year The The, Friendly Fires and Franz Ferdinand took headline slots.
inSYNC Rating – 9.5/10.0
Read our full review by Tobi Stidolph here: http://insynctm.com/festival-no-6/
Hospitality in the Park – One of the best drum & bass weekenders in the UK, Hospitality in the Park is hosted by the king of dnb record labels, Hospital Records. Taking over Finsbury Park in north London for the end of the festival season, Hospitality brought every one of the best drum & bass artists the country has to offer all under one roof. With impressive production and pyrotechnics, and despite the horrible weather, Hospitality in the Park rounded off this year's festival season with a massive helping of dnb to tickle the taste buds.
inSYNC Rating – 8.0/10.0
Read our full review by Kate Barnes here: http://insynctm.com/hospitality-in-the-park/