Featured Review: Boomtown 2016
Where do I start? Returning to Boomtown for a second year only confirms just how brilliant this festival is. A non-corporate haven for festival-goers to enjoy the August sunshine and party through night and day. Boomtown's attention to detail is truly remarkable; everything that happens is well thought out from Boomtown's very own currency and the adventures you can undertake to the vast array of niche musical genres and jaw dropping stages, sets and arenas. Boomtown truly is a wonderland, a festival masterpiece and a work of art. Boomtown's imaginary yet realistic backstory is also be marvelled at, keeping the narrative of Boomtown at the heart of the festival's fun.
Very sadly Boomtown seems to have a bad rep in the public's eye, and this is not a surprise. At first glance the festival is a chaotic, frantic, insane hub of anarchic pandemonium. However, in reality this is actually disguising a year-long story of careful planning and love that is put into to assure every festival-goer has the best four days of their year, whilst always being protected by a near-inviable safety net. This year's horrific carpark fire is a prime example, which was reported by the media as a breakdown in control, but in actual fact demonstrates Boomtown's testament to having plans and the correct crews in place to prevent a situation that could have proved a lot worse if it had no been contained. Anyway I am digressing.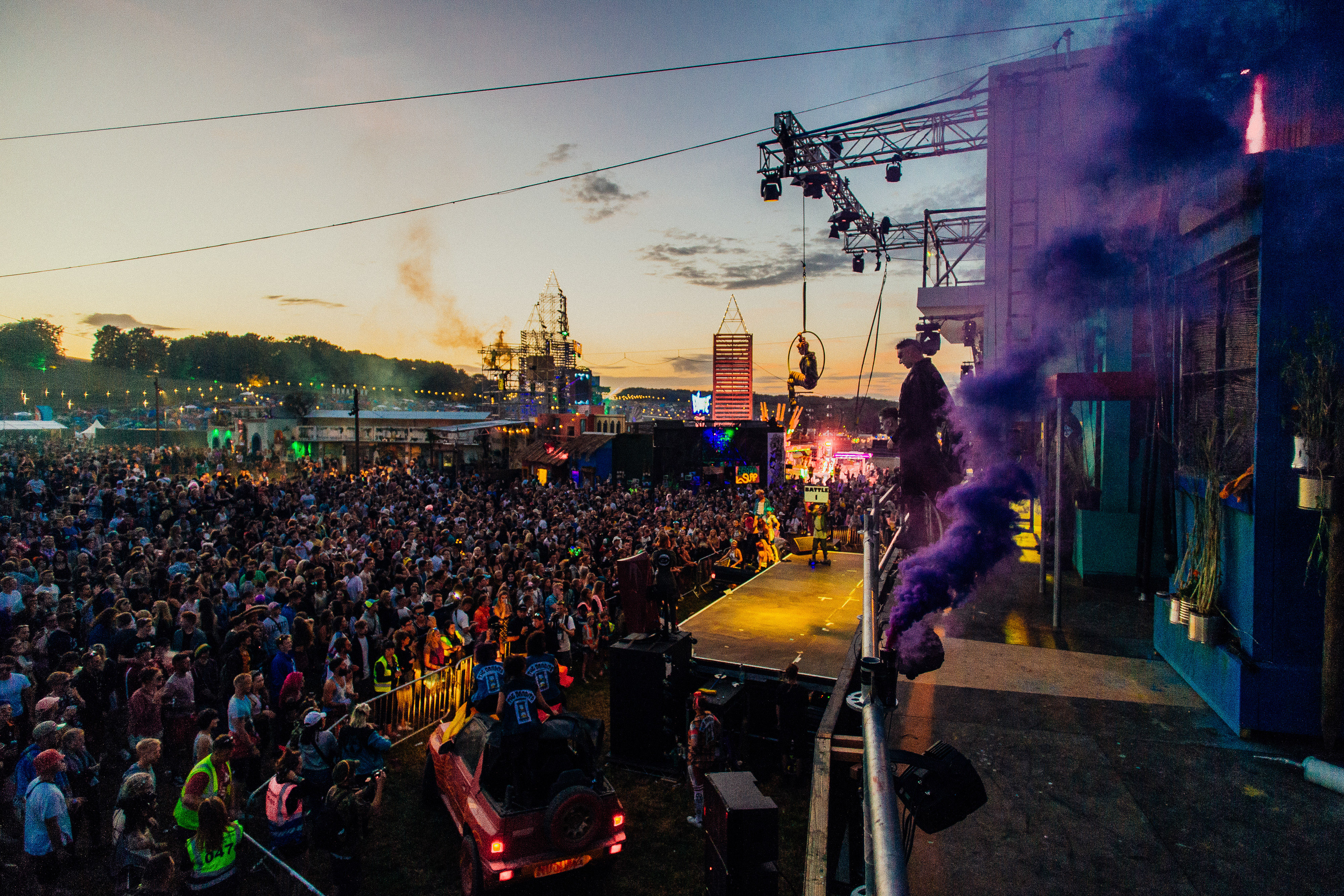 Boomtown was basking in the best of this August's weather, a true summers day in the picturesque Hampshire countryside. Boomtown's citizens entered 'Chapter 8' for the next page of the Boomtown story (each edition arrives kitted out with a fully immersive story). Thursday at the festival is a tremendous opportunity to explore the vast site and come to terms with the festival's own unique proposition: an entire city with nine districts, Boomtown's eighth edition invites dwellers to experience a cultural revolution. The story is told via huge on-site set pieces: visit Mayfair, Chinatown or a quintessential Old Town, 4 miles outside of Winchester.
You can never get bored wandering through Boomtown's streets. All nine districts come with a theme, adding their own unique page to the Boomtown story. Walking through the golden streets of Mayfair certainly set the scene for the weekend. Annoyingly, though, a disappointing discovery this year was the Town Centre's infamous 'Job Centre' stage. Last year it was a hype of activity playing some of the loudest, most raucous bassline, with office desks and filing cabinets strewn around, however, this year's lack of theming somewhat disappointed our high expectations. This, though, was just a tiny upset amiss Boomtown's epic non-stop party and energy. From the funky favelas of Barrio Loco and the red light cyber-ghettos of DSTRKT 5, to the saloons of the Wild West and the alleyways of Old Town, the 5,000 citizens of this popup masterpiece cast off their shackles to embrace change and liberty.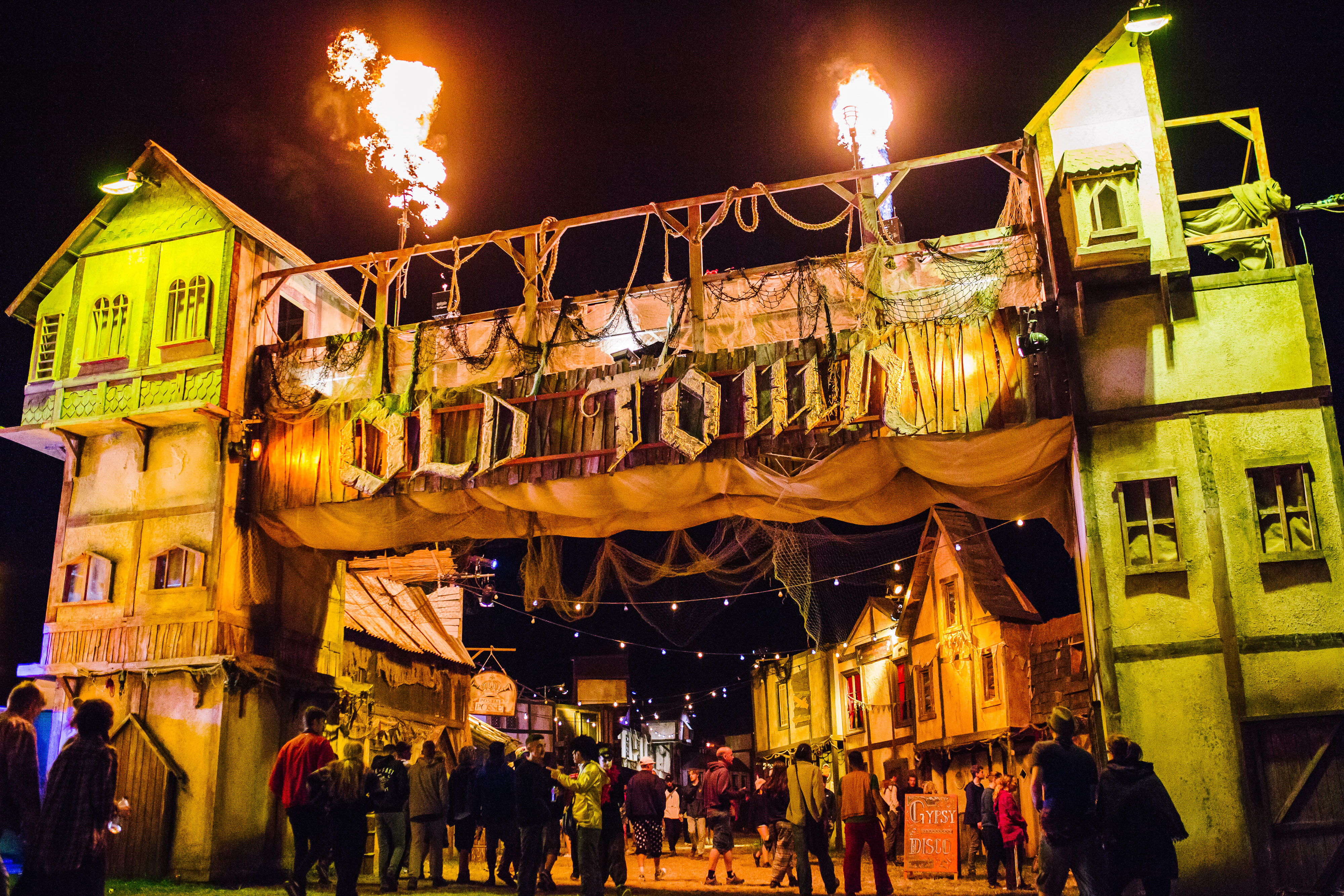 Exploring Boomtown's hidden forests are a must too. Away from the festival's busy streets, citizens can relax or continue the party in the undergrowth. Stages are dotted about playing some of the event's most niche music genres; techno, hardcore and pys-trance can be heard blaring from between the trees, and sand and wood chip on the floor make a perfect terrain to dance on and escape from the heat of the day. Continuing through the Old Town, with its huge pirate ship embedded between the buildings only confirms the effort that is put into Boomtown's art installations. Boomtown's liberty came this year fomented in the industrial underbelly of the new Sector 6 power plant, was at the heart of this year's Boomtown Fair – which is apt, as this four-day celebration of underground sounds and the creative arts, revolutionised what a festival can be. This colossal stage is themed as the city's nuclear reactor, and is the festival's new home of bassline, moving is from Barrio Loco like previous years.
Friday night back down the hill in Chinatown saw us head for 'Vamos' (previously the 'Bassline Circus') for Boomtown's first taste of some tech/house. Shadow Child, Skream and Friend Within were all making appearances, some of them their Boomtown debuts. The immense tent that is Vamos came complete with a set surrounding the DJ booth, which was situated high up to be able to see the onlooking crowd. This is an unusual feature for a big top-style tent. This feature, though, only furthers Boomtown's production and artistic disciplines that are put into the festival. Both Friend Within and Shadow Child played considerably tech-y sets, not inline with what we're used to from them. Friend Within swapped his aggressive piano house riffs for more minimal tech sounds, and Shadow Child put on a heavier techno set.
Delving even deeper into the heart of Boomtown, Saturday saw a number of so-called 'quests' being undertaken. This is where the festival is truly like no other. Everything is meticulously planned and thought out; although it seems like a carnival of mayhem, everything going on in the Boomtown experience is purposeful. Festival punters were exchanging small tokens like cigarettes and 2p's for Boomtown money. This money was used to get you into hidden rooms and secret places by the actors in costumes wandering around each of the festival's districts. All part of a day's work at Boomtown; making up stories, talking to actors in Chinatown, playing in the casino in Mayfair with Boomtown money, firing ray guns in DSTRKT 5. Everything about Boomtown creates an experience like no other for its citizens.
Saturday night brought us the joy of old school ska band Madness. Playing at the Lion's Den, Madness played to an excitable crowd, rattling through their classics 'One Step Beyond', 'It Must Be Love', 'House of Fun', and more, as well as a number of new tracks. Boomtown's infamous Lion's Den is an extensive Indiana Jones-style set with decorative waterfalls. The stage hosts a lot of the festival's big reggae acts. After Madness bassline trio TQD was awaiting at Sector 6. The three DJs kept the thousands entertained at Boomtown's newest stage. Following TQD was Bristol bass duo My Nu Leng. The duo played a typical set adding in some of their own tunes too, as well as a number of popular bass tracks. Boomtown's nightlife is unrivalled and the party carried on until 4am.
The last day of Boomtown Chapter 8 was dawning. A final chance to soak up the summer sun and drink some Holla Hooch (Boomtown's only noticeable corporate sponsorship) before heading back to reality. Boomtown's Banghai Palace is a jaw-dropping spectacle; nine storeys high was three huge screens surrounding the DJ box. Chris Lorenzo played a bass-heavy set, bouncing around the DJ booth high above the crowd. Following Lorenzo was heavy house/bass artist Taiki Nulight. The producer from Brighton played to an excitable crowd, which made for a great end to the evening as the sun was setting over Banghai.
Our Boomtown Chapter 8 experience was coming to an end, but not before Hazard back-to-back with Hype at Sector 6 drew the festival to a close; two hours of jump up drum & bass madness. At the close the festival's infamous 'Masked Man' appeared on Sector 6's backdrop, setting the scene for next year's chapter of the Boomtown story.
If you are yet to discover and experience Boomtown Fair, then do not delay. This festival is now certainly a contender for the UK's best festival, if not best event!
And so, the story continues…
Organisation 9.0
Music 9.0
Site Setup 8.5
Festival Communication 8.5
Attention to Detail 10.0
Creative Content 10.0
Value for Money 10.0
Overall 65.0