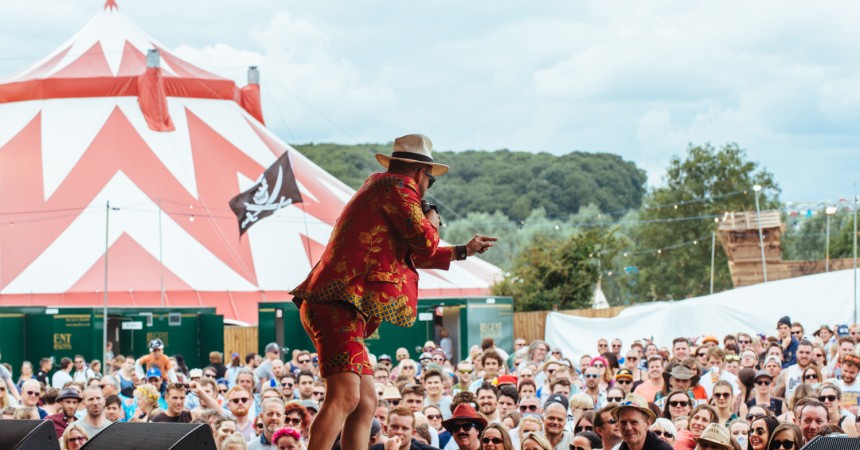 3 Things To Do Other Than Glastonbury
With Glastonbury taking a break in 2018, festival-goers are displaced across the country yearning for something to fill the summer. Because Glastonbury is so big we thought 2018 would be the year to try out some of the UK's best small festivals. We've compiled three amazing options for you to decide how best to make your summer festival season!
1/ Farr Festival / 5th-8th July / Newnham Woods, Newnham, Hertfordshire
High quality underground electronic music is becoming a bigger and bigger feature at the festivals of today. Set in the beautiful heart of the Hertfordshire woodland, Farr has organically grown into one of the UK's finest festivals from its humble beginnings just nine short years ago. The festival's ethos stays true to everything we know and love about dance music culture bringing a hedonistic party to the Hertfordshire countryside. Farr Festival hosts some of the most inspirational current electronic artists across six uniquely designed stages.
2018 will see the festival grow to four days for the first time, starting the party early on Thursday afternoon and running right through until Sunday. The festival's lineup really has been thought out, placing each artist at the most appropriate time. Jaques Greene will perform a unique live set to kick off Thursday evening. The weekend continues with a mouthwatering Friday bill; electronic duo Mount Kimbie, jazz multi-instrumentalist Tom Misch and producer Daphni (AKA Caribou) will all make appearances. Saturday sees a bucket load of artists from across the electronic music spectrum perform as well. Production duo Maribou State will be performing one of their infamous live sets alongside tech wonder man, Dixon, making for an incredibly exciting Saturday night. The weekend will be topped off by Hunee and Antal, as well as Zip, who will be performing a very special four-hour extended set.
Limited tickets available at http://www.farrfestival.co.uk/
2/ Standon Calling
Named as one the country's best small festivals, and an inSYNC favourite, Standon Calling returns at the end of July with its biggest lineup yet. Set in the grounds of the Standon Lordship Manor House, the festival is perfect for families and pet dogs with the festival's infamous Saturday afternoon dog show. As well as an eclectic lineup of bands, musicians and DJs, Standon Calling comes complete with its own swimming pool, open to the public throughout the weekend and the 'Cowshed', a purpose-built space to dance the night away. The festival has built its reputation on charm and the ability to keep it intimate whilst at the same time growing to host some incredible live acts.
This year the packed lineup features singer/songwriter Paloma Faith as Friday headliner with indie bands Django Django and The Amazons offering support. On electronic music duty will be George Fitzgerald, performing a live set, as well as Elderbrook and Greg Wilson. Saturday welcomes national treasure George Ezra, indie rock outfit Black Rebel Motorcycle Club and indie group Gengahr with Hot Chip and Jarvis Cocker making up the Cowshed lineup. Finishing this year's Standon off on Sunday will be Bryan Ferry, alongside Goldfrapp and The Horrors. Soulwax's 2ManyDJs and DJ Yoda will perform, with DJ Luck & MC Neat for those garage lovers among us.
Limited tickets available at https://standon-calling.com/
3/ Lost Village /23rd-26th August 2018 / Woodland, Norton Disney, Lincolnshire
Now in its fourth year, Lost Village is another new electronic music-based event to the UK festival scene. And, one that has firmly cemented itself as a mainstay during the summer season as one of the UK's best and brightest small festivals. Set in the heart of Lincolnshire, Lost Village welcomes everyone and anyone for an interactive and inclusive music experience. The festival is utterly immersive and lovingly crafted giving festival-goers a truly unique experience with the addition of not just an incredible and well thought out lineup of musicians and DJs, but also an eclectic roster of top comedians, great food, live talks, workshops, hot tubs and so much more. The lineup is reflected as an ingenious mix of some of UK's current favourites.
This year organisers have pulled out all the stops once more to make sure Lost Village is something to shout about. Announced earlier this year, electronic trio Friendly Fires, who are back after a significant hiatus, will headline the Friday night. Producer/DJ Four Tet will be on hand to make Saturday night is something special. Closing this year's festival is Manchester electronic indie band Everything Everything. Tonnes of other big names will also grace Lost Village this summer including Mount Kimbie, Dixon, DJ Harvey, Ben UFO and Gerd Janson.
Limited tickets available at https://lostvillagefestival.com/