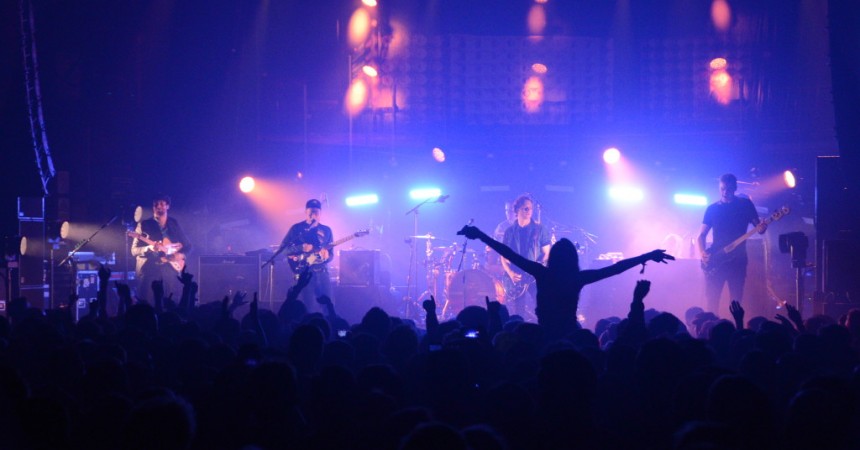 The Maccabees at The O2 Guildhall, Southampton
Hung at the back of the stage was the image of number one album 'Marks To Prove It', overshadowing The Maccabees as they filed onto the stage at Southampton's O2 Guildhall. The band is now on tour with their fourth studio album, after taking over two years to record and produce. After three previous, yet unique, tours to promote their albums gone by, it certainly goes without saying that the London five-piece know how to please. Their latest tour was no exception, exceeding far past any expectations.
The Maccabees emerged onto a floodlit stage; carrying with them their seemingly awkward but humble presence. Their latest hit 'Marks To Prove It' kicked off proceedings in Southampton much to the excitement of onlookers. This was just the first song in what turned out to be an incredible performance by the London band.
Smiles spread across all members of the band's faces as a mosh pit erupts in the crowd. Front man Orlando Weeks and guitarist Felix White interact with the crowd, rallying up the atmosphere whilst they play. Quite surprising the crowd was a great mix of people; fourteen years to sixty plus. When a band has a personality it can make or break a set. The Maccabees' down-to-earth nature should not go unnoticed, and their ability to play their music, as well as entertain and perform makes them an absolute pleasure to watch.
Felix explained that a fan outside had asked them if they were to play 'X-Ray', and proudly stated that they were. As the old favourite kicked in, the moshing continued, and it took the atmospheric sound of 'Grew Up At Midnight' to calm things before the encore. The Maccabees have the power to make you happy and emotional all in the space of a few minutes, and as it was clear that the band would soon be departing everyone awaited eagerly for the encore.
"We want more" was chanted again and again as The Maccabees returned with drinks in hands for their four-song encore. 'River Song' and 'WW1 Portraits' were synced cleverly in time with the band's impressive light show. 'Toothpaste Kisses' followed, finishing on pivotal song 'Pelican'.
Whilst some bands lose their way by the time they reach their fourth album, this definitely cannot be said for The Maccabees! A must watch. Until the next time…
Venue – 9/10
DJ/Band – 10/10
Music – 9/10
Overall – 9/10