The A-Z Of Musts At Boomtown 2017
The A-Z of what to look forward to most at Boomtown Fair 2017.
As Chapter 9 fast approaches, the UK's fastest growing festival eagerly waits to show what its next instalment has to offer its citizens. The festival has turned into one of the UK's festival wonders; a non-commercial masterpiece of arts, culture and music, which fully immerses every one of its citizens in its indescribable experiences. The festival has now ballooned to a staggering 60,000 capacity since Boomtown's streets first opened back in 2009. Boomtown Fairs' mind-blowing creative landscape is utterly diverse, eclectic and simply inspiring. If all festivals took on Boomtown's wild, weird and entertaining approach to their creative installations and musical programming then the world would be a better place. And, if you throw in the festival's fictional yet real-esque backstory, which develops with each passing year, then you're in for one hell of a ride.
A is for Anything Goes
Boomtown is a festival where anything goes. If it feels right, do it! The weird and the whacky are embraced as normality, from crazy fancy dress to incredible sets and artistic installations. Boomtown Fair is truly the place to have fun and get involved on every level of the festival. 
B is for Behind the Mask
If you haven't caught up with the story yet, then you need to get a move on! There's eight years worth to read up on now you know? Boomtown comes complete with its own backstory, developing year-on-year. Festival organisers cleverly tie the story in with the ever changing festival landscape. Last year's introduction of the Sector-6 stage emphasises this.
C is for Chinatown
Chinatown is one of Boomtown's nine districts. The district has three venues; Devil Kicks Dancehall, Chinatown Courtyard and The Last Stand. Devil Kicks Dancehall is described as the mecca for all punks and ska heads of the city. This high octane venue celebrates every spectrum of Punk music as well as playing host to some of Boomtown's best ska acts. Chinatown Courtyard also hosts live ska music in a sweaty environment designed to keep you moving to the unstoppable grooves. The Last Stand is an intimate bandstand bringing raw acoustic acts into the district's streets.
D is for DSTRKT 5
DSTRKT 5 has played host to the festival's colossal Banghai Palace stage for a number of years. Now, though, where the Palace once stood sits an empire; Banghai Towers is the combination centre for the all seeing eye of BHI Corporation. This digitally enhanced emblem of corporate power will host some of the festival's best bass, garage, grime and drum & bass music. DSTRKT 5's other venues include Robotika, Scrapyard and Sewage Workz that will all be playing host to some of the festival's best dnb and bass artists.
E is for Ed Solo
Ed Solo is known for his skills as a junglist, but he professed through a multitude of genres. The London producer began in the mid 90s engineering Black Twang, Elizabeth Troy & Roots Manuva. Ed Solo has also produced many pronominal breakbeat tracks leading to his 2007 album 'Random Acts of Kindness'. Solo has since been making a wide variety of tracks as well as remixing crowd-pleasing reggae/dnb tracks by artists like Chronixx and Sizzla. He is also well known for is original recordings with Elijah and Stickybudz. See him play b2b with Deekline at Sector-6.
F is for Flava D
Playing at Barrio Loco this year, Bournemouth born bass producer Flava D has made serious waves in underground dance music in the past two years. Ever since her debut release, 'Hold On' back in 2013 on the Butterz Label, the DJ has established herself as a multi-genre force in garage, bassline and grime. More recently Flava D has progressed further producing with Bristol bass duo My Nu Leng and grime kingpin Wiley, not to mention her side project with bassline producers DJ Q and Royal-T. She is certainly an artist not to be missed at this year's festival.
G is for Gilles Peterson
BBC 6 Music hotshot Gilles Peterson is world renowned for his eclectic mix of soul, jazz, house and hip hop, and can now count more than two million listeners to his Sunday afternoon radio show. He's is a fountain of musical knowledge, and has made over one hundred mix CDs/compilations of multiple genres with new and well-known artists. For a truly special DJ set, don't miss his performance at Whistlers Green.
H is for Hidden Woods
Boomtown has many forests to explore with multiple stages, hideaways and bars. The best of techno, dub, reggae and dancehall can be heard through the trees with places to cool off under the shade from the hot August sun (hopefully). Don't leave the city without wondering through the woods.
I is for Icicle
Recognised as one of the most technically advance producers in drum & bass, Icicle has made a name for himself within the industry since dropping is 2011 debut album 'Under the Ice'. Gaining momentum and support, Icicle was a regular on Rinse FM, holding down a monthly show. It was his 2014 album 'Entropy', though, that was a pivotal point in the DJ's career smashing its way to the top of the dnb charts. Do not miss his epic DJ set at Boomtown's new bass capital, Sector-6.
J is for Joy Orbison
Joy Orbison has spent the last ten years making a name for himself as one of the best electronic music producers in the country. Generally accepted as a mishmash of dubstep, funk, garage, house and soul, Orbison has been making waves ever since his debut release in 2009, 'Hyph Mngo/Wet Look'. With a man of this level of talent producing a genre-bending back catalogue of tracks, Joy Orbison's set at Barrio Loco is one of Boomtown 2017's must-see acts!
K is for KidzTown
Boomtown is not just for adults! The festival embraces festival-goers of all age with their dedicated area just for children. KidzTown has nine unique street venues hosting music, games and workshops to make sure kids are never bored. There are many hands on things to do and watch as well as a science tent and relaxation area.
L is for Lion's Den
Possibly Boomtown's most impressive stage, The Lion's Den sits in a natural amphitheatre standing tall with an impressive inferno of flames, lights, lasers and cascading waterfalls. Normally playing host to one of Boomtown's headliners, this almighty stage is a place where thousands of revellers go to listen to the best in drum & bass, reggae and scar. In previous years The Lion's Den has seen the likes of jungle king Shy FX, reggae maestro Damian Marley and old school ska legends Madness all take to the stage. If only for one artist, it is a must this August at the next chapter of Boomtown.
M is for Money
Boomtown has its own currency. Yes…you heard me right. Find some of Boomtown's many themed actors in each district and trade items with them for Boomtown money. Get involved with the festival on a whole new level. Trade your money with other festival thespians and you may find yourself entering secret doors or embarking on quests. Who knows what this year's event has in store.
N is for Nicky Blackmarket
One of the first pioneers of drum & bass, influenced by his mother's background in the jazz scene, Nicky Blackmarket has had an incredible career in dance music. His career began in London at the age of just fourteen and has since gone on to be a big name producer, record label owner and DJ, with his first official release the 'Spam EP' rolling out in 1995. His Boomtown set at DSTRK 5 will show you what he's made of; a true legend of dnb.
O is for Old Town
The Old Town is one of Boomtown's most exicting districts. The bustling, meandering streets host many hidden venues to explore with street art theatre and circus integrating itself with a wide selection of gypsy, ska and folk music. The Old Town brings a new meaning to the word immersive with bars, venues and even a pirate ship!
P is for Psychedelic Forrest
Set in the tranquil woods on the outskirts of the city, The Psychedelic Forest is a colourful and vibrant setting with the touch of cool sand beneath your feet. Sequenced square-waves mutate through the atmosphere providing a supportive backdrop for both serious stomping and existential inquiry. The sounds of trance, psy-trance and techno fill the air, playing host to some of Boomtown's most niche and unique of musical genres on offer at the event.
Q is for Quests
Enbarque on adventures in the different districts of the city. Explore and discover new venues and secret doorways. Boomtown is a festival of immersiveness, and a full experience comes from delving deeper into the festival's mysterious underbelly. Use Boomtown money to enter unseen venues and talk to those involved to gain a deeper understanding of the story unfolding in front of your eyes.
R is for Rockwell
Sector-6 is set for another exhilarating set in the form of Rockwell. He is without question a master of the drum & bass scene, heralded by Billboard, Fact Magazine, Resident Advisor and Mixmag among others. Rockwell has some incredible releases on arguably some of the world's biggest labels including Ministry of Sound, Sony Music and Critical. As well as his own residency on BBC Radio 1, Rockwell is a formidable DJ whose sets are known to light up clubs and festivals worldwide. His high octane sets and his tendency to change BPM's during sets truly set him apart from the rest.
S is for Sector-6
New to the festival last year, Sector-6 fills a void in the North East corner of the city. Captivating crowds with awe-inspiring pyrotechnics and lasers, the monster stage is the new home of Boomtown's incredible drum & bass and bassline scene. It would truly be a crime to miss such a spectacle.
T is for Town Centre
The untold heart of the city; the Town Centre is used to showcase the best of what the whole of the city has to offer. Boomtown's headlining stage grabs carefully selected artists from each of Boomtown's genres, a true melting pot of the unique sounds of ska, reggae, punk, folk, hip-hop and more.
U is for Uncle Dugs
A master of jungle, Uncle Dugs is Rinse FM's award winning DJ with almost three decades worth of experience. Dugs and his infamous #RCFF radio show have become part of the fabric of the UK rave scene and he is a must see act at TrenchTown this Boomtown!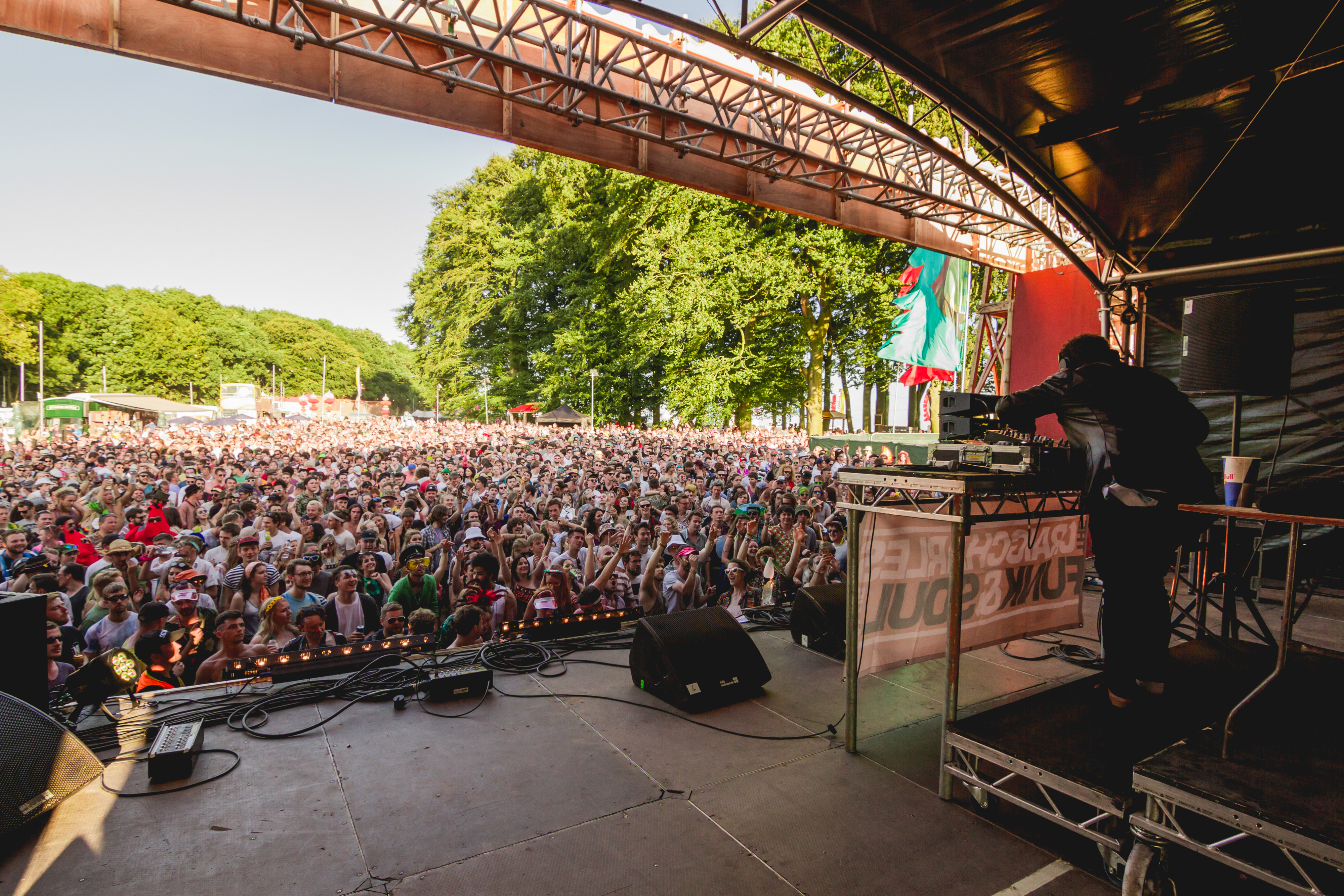 V is for Vamos
The previous home of Boomtown's bassline scene, Vamos now hosts the city's growing house and techno lineup. The stage celebrates some of the world's best and most innovative producers on the scene with previous artists including Skream (making his Boomtown debut), Shadow Child, Friend Within and more. Don't miss this trippy, laser-induced dance music experience. 
W is for Wild West
Boomtown's Wild West district is where it's time for you to dust off the spurs and parade through saloon doors whilst one-on-one gun fights happen in the streets. The district celebrates everything about folk, world and Americana music. Interact with the residents in a place run by the corrupt Sheriff and his bandits keeping you on your toes whilst the best sounds of folk, blue grass and more can be heard ricocheting off the wooden shacks.
X is for Xtrah
This will be the second year of Sector-6 and is shaping up to be an incredible lineup. Now, I know what you're thinking, Xtrah has been included to just fill up X in the alphabet. But, you're wrong. The producer/DJ from south London. has an incredible ear for beats and has now released a number of bangers on some of drum and bass' biggest labels. Xtrah is a true advocate for some of the tip top talent emerging in our capital of late and there's no doubt Xtrah has made an indelible impression on the scene since his introduction in 2011. Progressing further, Xtrah is also now the boss of his own label dubbed Cyberpunk and with endorsement from some of the scene's biggest names expect even more from this man in the near future.
Y is for Your Own Experience
Boomtown is all about having an incredible experience, listening to some of the world's best musicians and DJs and creating memories that'll last a lifetime. Explore the vast site and discover the weird and the wonderful if every single one of the unique districts. If this Boomtown is your first, it certainly won't be your last.
Z is for ZZZ
The international symbol for sleep. That's what you're going to need a lot of on Monday after this four-day party. Boomtown truly sets the bar for the UK festival scene with its production and immersive experiences, whilst now entering its ninth year, and capacity growing year-on-year, it's easy to see why this has become one the UK's most incredible, awe-inspiring events. Make sure you're there! August 10th 2017; Boomtown Fair – Chapter 9: Behind The Mask. Information at www.boomtownfair.co.uk.