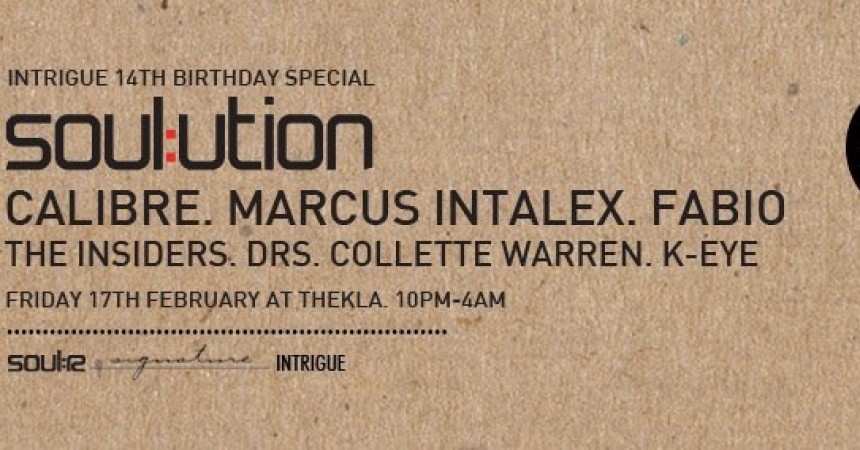 Intrigue Are Back For 14th Birthday Party In Bristol
Drum & bass promoters Intrigue are back with a bang for their 14th birthday celebrations with a series of top-notch headliners. Returning to Bristol's favourite boat, Thekla, Intrigue are bringing world leaders in all things drum & bass from their respective corners of the scene. Top of the bill is liquid dnb extraordinaire Calibre. Managing his own label, Signature Recordings, Calibre has crafted some of the most recognisable tunes in the genre, including his co-production with High Contrast named 'Mr Majestic', an almost ever-present track at dnb nights. The Irish DJ was classically trained, which perhaps explains his mastery of an assortment of instruments and genres, and plays all the instruments featured in his songs himself. His creations have varied from soothing liquid fusions to hard hitting basslines and intricate jungle rhythms, along with everything in between. A stalwart in the scene, he is certainly not to be missed.
Playing just underneath him and with almost as big a reputation comes Marcus Intalex. Cutting his teeth with releases on pioneering label Metalheadz, Marcus Intalex has moved away from the frantic drum patterns of his early records to a more soulful sound with his label Soul:R. Collaborative projects have included several tracks with S.P.Y including 'Celestial Navigation' and 'Make a Raise', as well as with master of the liquid scene Calibre. Expect pacifying melodies, rapid snares and a heap of yet to be released exclusives.
Finally, liquid-funk master Fabio will be conducting proceedings. The London DJ has over two decades' experience under his belt, which included stints on pirate radio in the mid-80s, serious recognition in the early acid-house scene, and running the infamous club night Rage. As well as a long list of hits, Fabio brings this wealth of knowledge and a vast collection of music, and whilst in his early years he turned away from jungle for his less hardcore approach, do not be surprised to hear considerable variety on the night from the ex-Radio 1 DJ. 
Head to Intrigue for a true night of drum & bass satisfaction. Tickets available here.