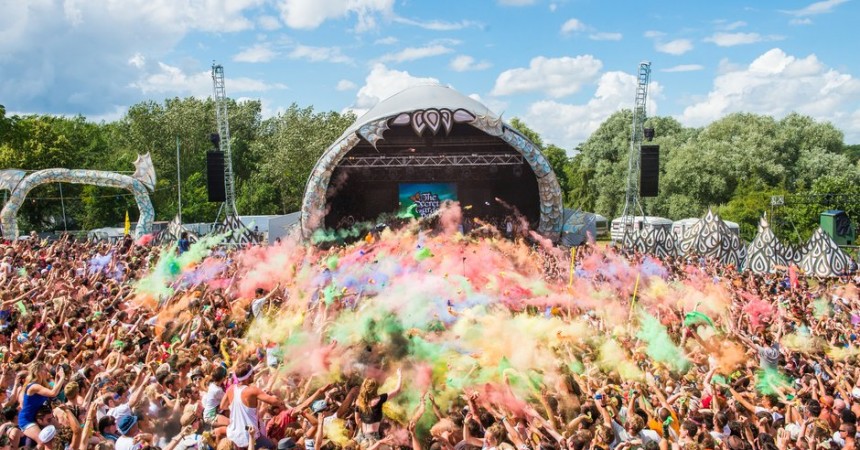 inSYNC's Weekly Festival News (April 3rd 2017)
This week has been mega exciting! Glastonbury give us their first major announcement for the 2017 festival, whilst Blissfields, Secret Garden Party and Wickham Festival all make additions to their lineups. Festival season is so close we can almost taste it.
Glastonbury
It doesn't need much introduction, but the UK's biggest and best festival continues to fly the flag for the British music industry and international festival scene. The Somerset-based event will once again take place at Worthy Farm near Taunton this June before taking another fallow year in 2018. With the usual year-long rumours circulating online, it's always exciting to see what acts festival organiser Emily Eavis plucks from the bag.
After already announcing 2017's three headliners, Glastonbury have now made their first major lineup announcement. Radiohead, The Foo Fighters, and Ed Sheeran will top this year's bill, with tonnes of other big names joining them. The xx, Alt-J, Barry Gibb, Metronomy, Glass Animals and Lorde are just a few of the bands that are set to play. More announcements are expected to follow, as well as Glastonbury's infamous DJ lineup. Watch this space.
Tickets available at: SOLD OUT!
Secret Garden Party
Secret Garden Party, that takes place every July, is one of the UK's best and most successful independent festivals. The festival is paralleled to the mad, immersive world of Boomtown, but gives partiers a more relaxed vibe, and a different variety of lineup to what the Winchester-based event offers. Both festivals, though, have similar logistical processes, with them saving money on acts, booking smaller artists, or bands that come from more niche genres of music. This money, though, is not kept as profit but propelled into the event, providing one of the UK's best experiences through art installations, stage and set productions, and many different entertainments for festival-goers to enjoy.
With a stellar lineup already in place, SGP have now released their infamous Pagoda lineup. The dance music stage will see the likes of Waze & Odyssey, Jonas Rathsman, Ejeca, Eats Everything, Jackmaster and more all perform. The festival also recently made the very sad announcement that this July will be its last, before moving onto new and exciting projects. See our full article on the announcement here.
Tickets available at: http://www.secretgardenparty.com/
Blissfields
As Hampshire goes, as a county, it's got some incredible festivals and events. Blissfields is just one of those and has now been contributing to the county's music scene since 2001. The festival moved sites in 2011 (now situated closer to Winchester) and although a site move is not an easy task for any event, it now looks set to stay. Blissfields is only small, around 2,500 capacity, but it certainly makes a big impact in the industry, playing host to some of the UK's biggest bands. Blissfields has seen Mumford and Sons, Bastille, Laura Marling, Super Furry Animals, Tricky, Jake Bugg and Ben Howard all grace the main stage over the years. It was the winner of the "Best Small Festival" award at the 2007 UK Festival Awards too. The festival is primarily pop, folk, indie, rock, and dance orientated, and is attended by families as well as younger music fans.
The year's festival, running from 6th-8th July, will see The Cinematic Orchestra and Metronomy headline with a number of excellently selected bands also on the bill. 2017 is shaping up the one to be one of Blissfields' best. It's not just the music that the festival worked hard on though!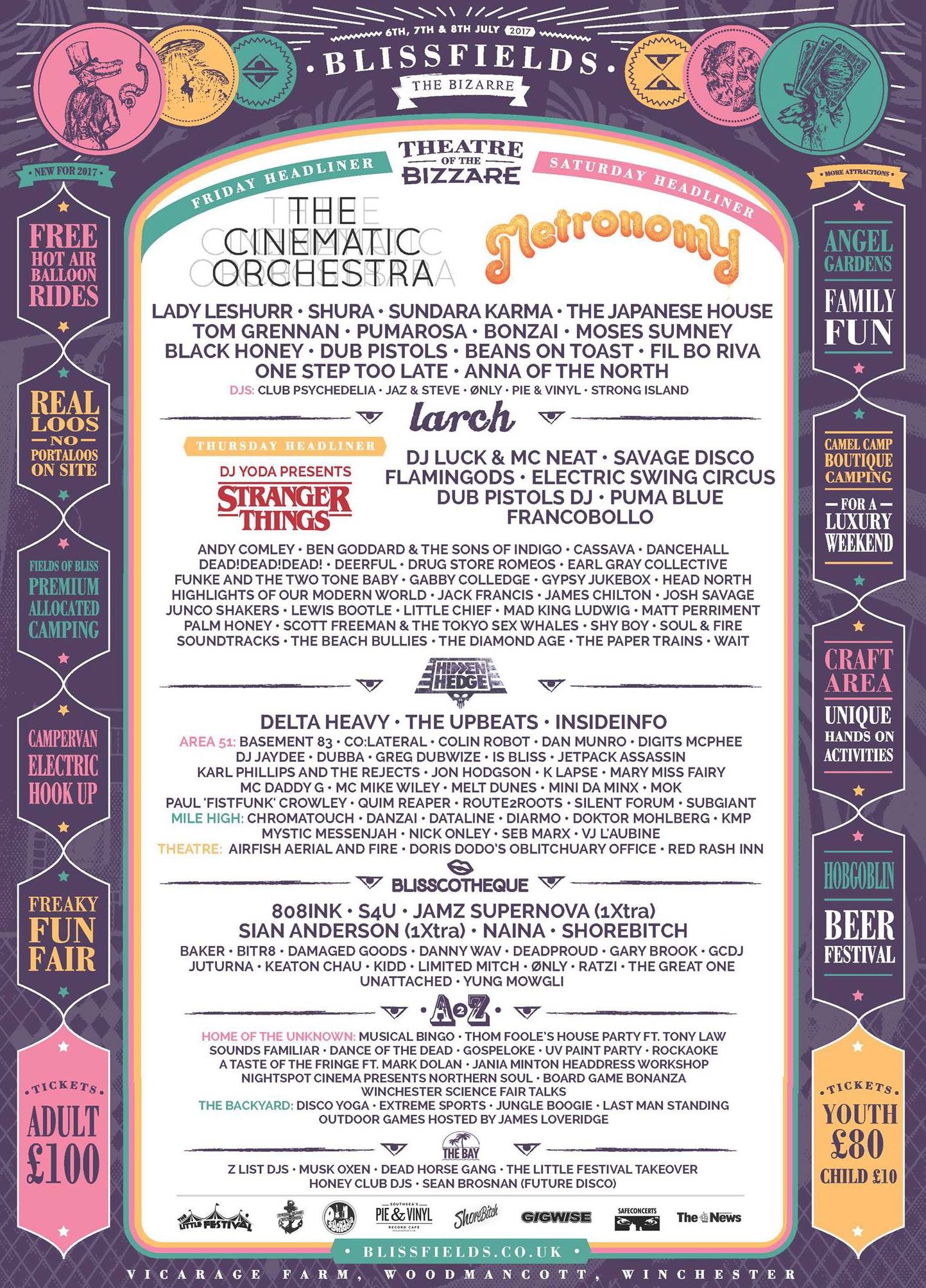 Tickets available at: http://www.blissfields.co.uk/
Wickham Festival
Wickham is one of Hampshire's best boutique, family-friendly festivals. The four-day event, that takes place just outside the village of Wickham near Portsmouth, was voted Best Festival (Under 15,000 capacity) at 2015's Live UK Music Business awards. This has posed organisers a very obvious but difficult question: how do you make the festival better?
Well, looking purely at the lineup, the local festival has come up with another stellar lineup. Wickham prides itself on booking acts for the older audience with this year's headliners being naughties pop singer/songwriter KT Tunstall, 10cc and The Levellers.
Tickets available at: http://www.wickhamfestival.co.uk/