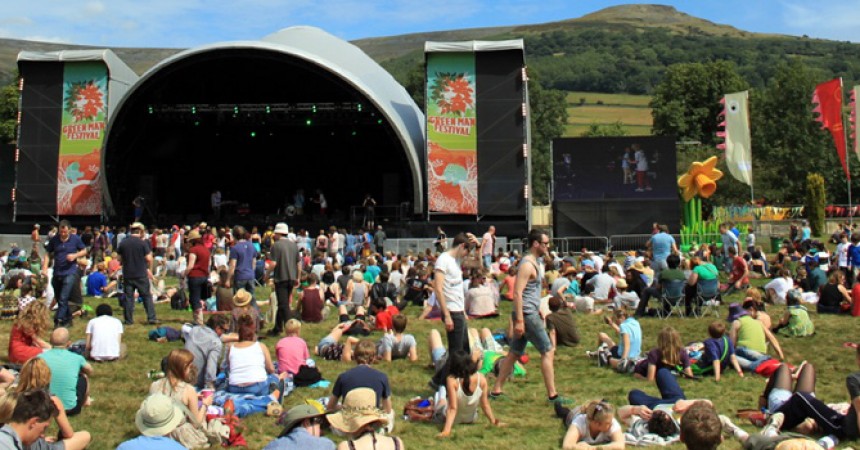 Green Man Festival Preview
Green Man Festival 2014 - Preview
With the amount of festivals now cropping up throughout the year in the United Kingdom, it can sometimes be hard to know which ones you want to go to! Sometimes it's hard to get away from the corporate advertising and mass marketing campaigns that Glastonbury has managed to dodge for so many successful years.
For something different in a festival, out in Brecon Beacons, there is four days worth of independent, family-friendly fun waiting to be had. Music has to excel more than anything else to make a festival great, and this certainly ticks all the right boxes for what's good for your ears. Green Man Festival, something the Welsh can definitely be proud of, has an incredibly strong line up for 2014's mid-August weekend party. Green Man is known for its relaxed atmosphere, and has a strong sway towards the indie and folk music scenes.
Having won both the Grass Roots Festival and Best Medium Sized Festival accolades at this year's UK Festival Awards, we are expecting another great year from the Welsh festival. With that under the belt, it's clear to see that Green Man isn't just the same as any other mid-sized market festival, but one that is focused on good music and creating a unique ambiance that lasts the weekend long.
Green Man have sorted exotic indie-folk band Beirut to headline, who will bring a new sound to the valley this year. Also joining Beirut at the head of Green Man 2014 is recently-reformed Neutral Milk Hotel, whose indie legacy has almost certainly prompted a lot of music influence into a number of today's bands. The Saturday headliner is yet to be announced.
Joining the two front bands at the Black Mountains setting include Mercury Rev and The Waterboys, both of whose set lists are overflowing with cracking songs that Green Man-goers can get excited about.
A band who we at inSYNC thoroughly enjoyed at Glastonbury this year, The War On Drugs, are still in the UK for Green Man, still sucking up the success from their latest featured album. Drugs fans will turn up in droves to see the Philadelphia-based band perform the latest and greatest hits.
2014's Green Man Festival is lining itself up to be one of the best so far, and for a festival that's only on its eleventh year, the acts playing just keep getting better. First Aid Kit, touring ahead of their new album Stay Gold release, Caribou, Polica, Daughter, Kurt Vile, Anna Calvi, and more will join the main headliners over the long weekend.
For those more accustomed to dance, Green Man will fulfil your urge to dance too; Simian Mobile Disco, The 2 Bears, East India Youth, and tons more will add to the vibrant atmosphere and excellent nightlife. As well as this, Green Man is one of the few British festivals that has a 24 hour licence meaning that you can party from dusk 'til dawn, really making the most out of this quaint affair.
But, it's not just about the music. Green Man encompasses literature, comedy, film, theatre and art too, to bring festival-goers the best entertainment experience, and to showcase a strong commitment to the performing arts. The comedy stage will this year bring us standup from Josh Widdicombe, plus more.
And, something only Green Man could provide is the so-called 'Einstein's Garden', which promises to impress, with a lineup of science and nature fun designed to blow the mind.
The setup of Green Man is also one of spectacular design, featuring different areas. The festival's intimate main stage is at the Mountain's Foot, placed in front of the Black Mountains landscape. The Far Out area features Green Man's excellent all-night entertainment regime filled with DJs and dance acts, all in the shadow of a large bonfire.
Green Man 2014 will run from Thursday August 14th to Sunday August 17th. And, if you think this glorious, laid-back, atmospheric festival comes at a great cost, think again. Adult tickets for just £159 is much more affordable than most of Britain's major festivals and there are even student tickets available for just £135, plus a booking fee. Check out Green Man now, and order your tickets on their website at www.greenman.net.
inSYNC's Green Man Picks:
Beirut:
The New York-based six-piece are brining their indie-rock sound to Green Man this year. The headline act are described as being synonymous with exotic world music and should give an excellent show to Green Man's chilled out vibe. We're looking forward to see what Beirut will bring to Green Man, and see if they are as good of a live band, as they are on record.
Caribou:
Canadian composer and musician Caribou is joining Beirut as one of the top billed acts for Green Man 2014. Albums 'Swim' and 'Our Love' proved to be popular for the artist, and his psychedelic pop sounds have rocketed his career further onwards. Caribou has gone from strength to strength including supporting Radiohead on their headline tour back in 2012. This should be Caribou in good stead to bring an excellent show to the Green Man main stage.
The War On Drugs:
Philadelphia band, The War On Drugs, is someone we thoroughly enjoyed at Glastonbury last month, and it's great to see them on the list for action at Green Man. They are still enjoying success from their third studio album 'Lost In The Dream', and with songs like 'Under the Pressure' and 'The History of Plastic' on the setlist it should make for a decent show.