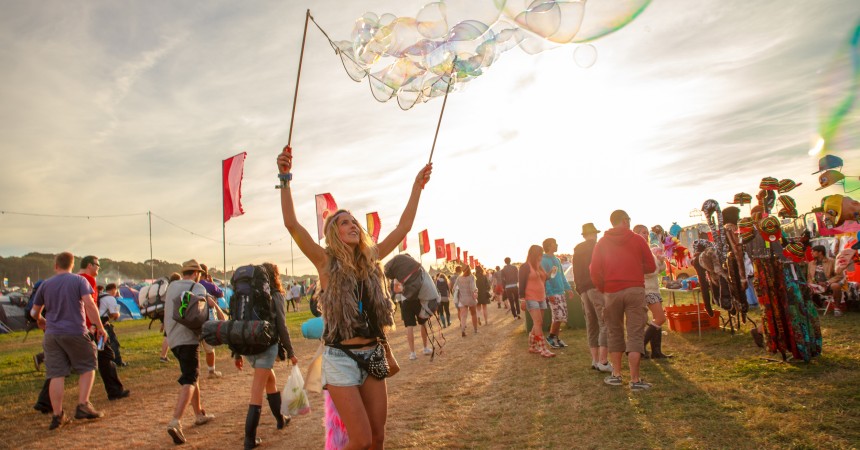 2 Weeks To Go: What Can You Expect At Bestival 2015
The UK festival season which now spans almost 5 months of our year is, sadly, coming to a close. But, it's not all bad news because one of the UK's best festivals is still to come, strategically  placing itself at the end of the festival marathon. One last blow-out weekend for everyone to enjoy before we all have to face the dismal British winter.
Rob da Bank's Bestival is renowned for its eclectic lineups, and 2015 is looking like it'll be no different! With over 25 stages, and creative content that'll knock your wellies off if you're not pre prepared, Bestival really is one of the best and brightest festivals, with over 50,000 festival-goers defending on the Isle of Wight's Robin Hill.
Bestival's annual theme is 'Summer of Love' this year, so expect the trippy 60s costumes to be out in force. Missy Elliot, Duran Duran, The Chemical Brothers and Underworld are topping to bill, not to mention a vast array of DJs that complete Bestival's electronic-inspired grassroots.
Bestival's much loved Big Top stage will no doubt be playing host to some of 2015's best acts. Grime king Skepta, DnB hero Roni Size & Reprazent, scratch master DJ Yoda and grunge band Drenge are just a names that'll grace the big blue tent at this year's festival.
And, as if all of what Bestival has to offer hasn't made you jump around in anticipation, The Port stage will make another appearance, playing host to some of the country's biggest DJs; Annie Mac, b.traits, DJ Q, Four Tet, Hannah Wants, Jaguar Skills, Jonas Rathsman, Monki, Shadow Child, Skrillex, Toddla T and Zinc are to name but a few.
inSYNC's Bestival Picks: 3 Acts You Have to See at this Year's Festival
Number One: Duran Duran
These are a must see at Bestival this year. Duran Duran will take you back to the early 80s where they emerged from Birmingham. The band has now sold over 100 million records, and continue to tour across the globe. The group, now working on their 14th studio album, will show Bestival how there will never be another band like them!
Number Two: Jamie XX
After the recent release of his debut solo album Jamie XX has been gaining ground, and has become one of the prolific DJs in the UK. We were lucky enough to catch Jamie XX at Glastonbury, and, whilst mixing vinyl live, played an amazing set. Not to mention his light show! No matter what, get to Jamie XX's set at Bestival.
Number Three: Tame Impala
Australian psychedelic rock band Tame Impala will grace the main stage, boasting their new album 'Currents'. The album has been a great success, following up their 2012 hit studio album 'Lonerism'. This is your opportunity to see one of the best live bands at the moment, so take it.
Bestival tickets still available from £185 at bestival.net